Specialized Service Division
Specialized Service Division
SB678 (California Community Corrections Performance Incentives Act 2009
The Adult Probation Department received a one-time grant for the Evidenced-Based Practices (EBP) to improve adult services by utilizing a risk needs assessment for case plan development and applying a case management process to refer 18-25 year old Transitional Age Young Adult Probationers for services. Officers will be trained on EBP for the application of graduated sanctions and rewards, collaboration with treatment providers to meet the needs of this young adult population and develop additional services when there are gaps in services. The goal is to improve public safety by improving the performance of 18-25 year old probationers, track the services that are available, measure and report outcomes as dictated by the grant.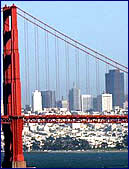 The Transitional Aged Youth (TAY) unit serves the needs of clients between the ages of 18-25 that are high At-Risk and In-Risk and reside in SF Neighborhoods that are targeted as "hot zones" by SFPD. The TAY unit supports the Young Adult Court, held in Department 5, under the Honorable Bruce Chan. The YA Court is a 3-phased system designed to provide added support and supervision for at-risk young adults. The clients are provided services, including, but not limited to mental health, education, barrier removal, cognitive behavioral programs.
The TAY unit is also a partner in the Mayor's Interrupt, Predict and Organize (IPO) violence prevention program. The IPO is a 12-month program that exposes Young Adults to employment, education and mental health services. Eligible clients participate in job readiness training (JRT) through a community-based organization. The clients who successfully complete the JRT are placed at work sites through the following City departments: Recreation and Parks, Department of Public Health and San Francisco Public Works.
The San Francisco Adult Probation Department's Domestic Violence Unit includes ten deputy probation officers and two supervising probation officers. The unit is responsible for supervising individuals on probation for domestic violence, stalking and child abuse offenses. One deputy probation officer is assigned to assist DV Court, which aims to hold individuals accountable and change behavior through effective interventions. The probation department supervises each client based on their individual needs and court orders. The unit is also responsible for certifying and monitoring batterers intervention programs for the department pursuant to 1203.097 and 1203.098 PC requirements. The primary goal of each program is to promote victim safety.  Click on a link to see the list of Domestic Violence Programs.