San Francisco Health Service System Appoints Abbie Yant Executive Director
Public Health Executive Formerly with Saint Francis Memorial Hospital and San Francisco Health Department to Oversee $800 Million Benefit Program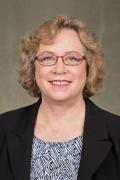 SAN FRANCISCO – Jan. 14, 2018 – The Board of the San Francisco Health Service System (SFHSS) today announced that long-time public health care executive Abbie Yant has been appointed Executive Director. The national search drew 53 applicants, and the due diligence and detailed and independent process spanned a number of months.
Yant, who has more than 30 years of health care and leadership experience in San Francisco, will oversee the operations of SFHSS, which provides more than $800 million annually in health care benefits to over 115,000 employees, retirees, and their dependents.
"Abbie Yant is an exceptionally qualified executive who understands the vital importance that SFHSS plays in the well-being of our members," said Randy Scott, President of the San Francisco Health Service System's Board of Directors. "As the primary SFHSS executive leader working in support of the Board and the entire membership, Abbie's expertise and experience in San Francisco will serve us well as we meet future challenges in an ever changing health care benefits environment."
"I am thrilled that we have selected such a highly qualified candidate with strong healthcare delivery experience in the local area," said Willie Lim, Vice President of the HSS Board. Commissioner Karen Breslin added that "The HSS Board has fulfilled its fiduciary responsibility and I look forward to working with our new Director to provide excellent customer service and the best health benefits possible for our members."
Prior to SFHSS, Yant worked for Saint Francis Memorial Hospital in San Francisco for 17 years in a variety of senior positions. Most recently, she was Vice President, Mission, Advocacy Community Health Services. In that role, Yant managed more than 100 employees and an annual budget of more than $3 million. Prior to that, she worked for the San Francisco Department of Public Health for 12 years. She served as Administrator of the Department's Emergency Medical Services Section and as Quality Assurance Coordinator.
Yant has served on numerous boards and initiatives in San Francisco. She was Co-Founder of SF/Tenderloin Health Improvement Partnership (SFHIP); Co-Chair of the Hospital Council Behavioral Health Task Force; a member of the San Francisco Long Term Care Council; and Founder and Co-Chair of the San Francisco Transitional Care Program. A registered nurse, Yant is a member of the Association of Community Health Improvement (ACHI) and American Public Health Association (APHA). She has Master's Degree in Leadership and a Bachelor of Arts degree in Health Services Administration, both from St. Mary's College. Yant earned a Diploma in Nursing from York College Hospital School of Nursing in Pennsylvania.
"I am looking forward to working closely with the Board and staff of the San Francisco Health Service System to improve the health of our members and the delivery of our service," Yant said.
About San Francisco Health Service System (SFHSS)
The San Francisco Health Service System (SFHSS) negotiates and administers benefits for the over 115,000 people. SHSS beneficiaries include employees, retirees, and their dependents of the City and County of San Francisco, San Francisco Unified School District, Community College of San Francisco, and San Francisco Superior Court. For more information, visit http://www.myhss.org/.