Complete Count Committee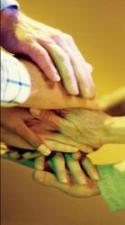 Complete Count Committees (CCC) are volunteer committees established by tribal, state, and local governments, and/or community leaders, to increase awareness about the census and motivate residents in the community to respond.
Mayor Gavin Newsom signed Executive Directive 90-02 on May 27, 2009, authorizing the creation of the San Francisco Complete Count Committee. The Directive also authorized the Office of Civic Engagement & Immigrant Affairs (OCEIA) to plan and oversee the City's census outreach efforts and mandated involvement by all City departments.
The 2010 San Francisco Complete Count Committee consists of 25 leaders from various local community and businiess organizations, including:
| Name | Title, Community Organization |
| --- | --- |
| Sherilyn Adams | Executive Director, Larkin Street Youth Services |
| Rosario Anaya | Executive Director, Mission Language Vocational School |
| Elmy Bermejo | Interim Executive Director, Latino Issues Forum |
| Anni Chung | President & CEO, Self-Help for the Elderly |
| Jamal Dajani | Director, LinkTV; HRC Commissioner |
| Sheryl Davis | Executive Director, Mo Magic |
| John Eller | Director, ACORN-SF |
| Don Falk | Executive Director, Tenderloin Neighborhood Development Corp |
| Felix Fuentes | Vice Chair, Immigrant Rights Commission; Labor Specialist |
| Aileen Hernandez | Chair, African American Out Migration Task Force, founder CAWA |
| Jim Lazarus | Senior VP of Policy, SF Chamber of Commerce |
| Jan Masaoka | Director & Editor-In-Chief, Blue Avocado |
| Angus McCarthy | Builder/Developer; Chair, Immigrant Rights Commission |
| Toye Moses | Executive Director, Southeast Facility Commission; IRC Commissioner |
| Philip Nguyen | Executive Director, Southeast Asian Community Center |
| Vincent Pan | Executive Director, Chinese for Affirmative Action |
| Michael Pappas | Executive Director, SF Interfaith Council |
| Mario Paz | Executive Director, Good Samaritan Family Resource Center, Inc. |
| Ana Perez | Executive Director, CARECEN |
| Rebecca Rolfe | Executive Director, LBGT Community Center |
| Rosabella Safont | Associate Director, Mission Economic Development Agency; SF Elections Commissioner |
| Andrea Shorter | President, Commission on the Status of Women |
| Bernadette Sy | Executive Director, Filipino American Development Foundation (FADF) |
| Maripousa Taufetee | President of the Potrero Terrace Resident Council |
| Kent Woo | Executive Director, NICOS Chinese Health Coalition |