ADA Coordinator Toolkit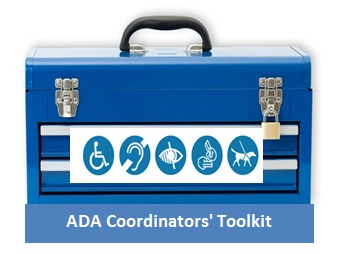 Welcome to the ADA Coordinators' Toolkit! 
As your Department's liaison on all disability related issues, this section of our website serves as your resource center. Here you will find information about the ADA Grievance Procedure, resources on communication access, providers for sign language interpretation or real-time captioning, accessible symbol templates and more. So, feel free to browse through our training archives and communicate with us for more information and technical assistance. We welcome your suggestions and look forward to working with you!
ADA Coordinator Responsibilities
ADA Title II State and Local Government
ADA Title II Technical Assistance Manual
Reasonable Modification Policy
Resources for Communication Access