Celebrate Ed Roberts Day – A Great Moment in Disability History
Ed Roberts Day
Celebrating the Life and Work of Ed Roberts
(January 23, 1939 – March 14, 1995)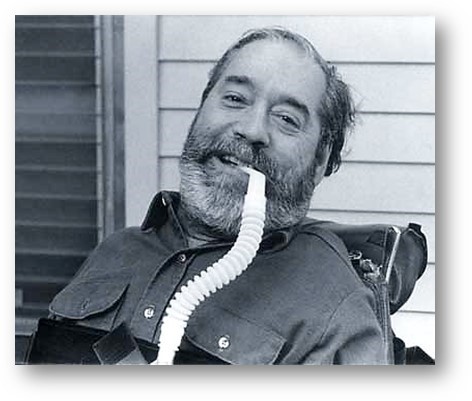 Dear Colleagues, Disability Community Members, and Activists,
We hope you will join us today to celebrate Ed Roberts and bring tribute to his life's work as an advocate, activist, and Disability Rights Movement pioneer.
In 2010, former California Governor Arnold Schwarzenegger signed a legislative bill establishing Ed Roberts Day on January 23, Ed Roberts' birthday. This day serves as a day for all of us to educate the public about this disability rights pioneer and our rich disability history. Were it not for Ed Roberts, it is unlikely that we would even have an Americans with Disabilities Act to enforce.
Ed Roberts is widely recognized as being the father of the Independent Living and Disability Rights Movement, a movement that he started in California in the early 1970s. In the intervening years, it has grown to be a national and international movement that has changed the lives of millions of people around the world.
Roberts contracted polio at the age of 14, which left him paralyzed from the neck down, except for two fingers and several toes. His early days of disability activism started in education. A school administrator almost prevented Roberts from receiving his high school diploma because he could not complete his driver's education and physical education. Roberts persisted and became the first student with severe physical disabilities to be admitted into the University of California, Berkeley. Here he founded the first Disabled Students Program in the world.
After college, he co-founded the Center for Independent Living, a non-profit advocacy group run by people with disabilities for people with disabilities. Subsequently, the center became an international model for independent living centers. At the time, the idea of providing a full range of consumer-run services under a single roof to enable people with disabilities to live independently in the community was a revolutionary concept.
Roberts also co-founded the World Institute on Disability, the first public policy center led by and for people with disabilities. He was the first California State Director of Rehabilitation with a disability. In 1984, he was awarded the honorary MacArthur fellowship as a Civil Rights Leader, an award for extraordinarily talented and creative individuals. In 2011, Governor Jerry Brown inducted Ed Roberts into the California Hall of Fame.
It is important to remember this history and to honor the person who helped envision and implement access for people with disabilities in a nation and world that for centuries before regarded people with disabilities as "less than," or even nonexistent. It is no exaggeration to say that what Ed Roberts did has changed the world for the better. This is something in which all Californians, whether they have disabilities or not, can take great pride. 
We are also confident that if Ed Roberts were with us today, he would agree that as a culture, we still have a long way to go before people with disabilities achieve full societal equality.  Ed Roberts Day not only pays homage to one of the great leaders of the 20th Century, but it also recognizes and honors all citizens with disabilities who are living out Ed Roberts' dream.