Curb Ramp and Sidewalk Transition Plan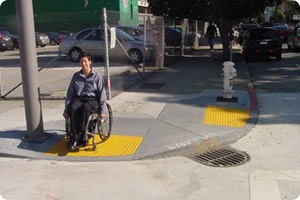 On January 9, 2008 the City and County of San Francisco Department of Public Works issued a comprehensive update to its ADA Transition Plan for Curb Ramps. The Curb Ramp and Sidewalk Transition Plan (pdf) was developed in collaboration with the Mayor's Office on Disability. This plan replaces all previous plans.
The plan integrates curb ramps and sidewalk programs into one comprehensive document, although the two elements are addressed with separate administrative procedures.
Map with 2017 curb ramp conditions in the City and County of San Francisco (pdf)

Companion pieces to this plan include the following:
Citizen Request and Complaint Procedures
The City has several different methods and funding mechanisms for constructing curb ramps. A person with a disability can request a curb ramp to provide sidewalk access near their residence, a City facility, a transportation service, or their place of work by calling 311. The caller must indicate the streets that intersect, the direction they are in if possible (north, south, east, or west), or a nearby address. The 311 service will ask for the caller's name and contact information. If the caller wishes to make a confidential request, they can do so by calling the Mayor's Office on Disability at 415 554-6789 (TTY 415 554-6799) or email to mod@sfgov.org. 
To file a Curb Ramp request online with our office click here.
Department of Public Works Street Repaving, Streetscapes and Standards.
The Department of Public Works: DPW is an entity that designs and builds curb ramps for the City and County of San Francisco. Among the functions of DPW are the building of curb ramps as part of ADA Transition Plan funding, repaving streets or resurfacing projects, and excavating utilities and improving streetscapes. Additionally DPW provides technical requirements and permits for private developers and public utilities that perform construction work in the public right of way, which also requires curbs.
Yearly, the City and DPW may obtain funds for pavement management programs and curb ramps construction from a variety or combination of sources:
ADA Transition Plan funding is provided through the General Fund as part of the City's 10 Year Capital Plan.
San Francisco Proposition K Transportation Sales Tax and Certificates of Participation.
California Transportation Development Act Article 3 and State Propositions 42 and 1B.
Federal FHWA Surface Transportation Program and 2009 American Recovery & Investment Act.
DPW Standards and Director's Orders (pdf): DPW develops and maintains a series of design and construction standards for curb ramps and other accessibility features in the public right of way. These standards amalgamate federal, state and California Building Code requirements. The standards address both permanent new construction or alterations and temporary use of the public right of way. The following are links to DPW's standard curb ramp details.

RX-1 (pdf) RX-2(pdf) RX-3(pdf) RX-4(pdf) RX-5(pdf) RX-6(pdf) RX-7(pdf) RX-8(pdf) RX-9(pdf) RX-10(pdf) RX-11(pdf) 

The Better Streets Plan: The Better Streets Plan created a unified set of standards, guidelines, and implementation strategies to govern how the City designs, builds, and maintains its pedestrian environment. The plan incorporates best practicesin design of accessibility features for the public right of way.

The Better Streets Plan process brings together the staffs of multiple City agencies to comprehensively plan for streets. The plan will seek to balance the needs of all street users with a particular focus on the pedestrian environment and how streets can be used as public space. This plan will reflect upon the understanding that the pedestrian environment is about more than just transportation, but that streets serve a multitude of social, recreational, and ecological needs that must be considered when deciding on the most appropriate design.

The Better Streets Plan will carry out the intent of San Francisco's Better Streets Policy, adopted by the Board of Supervisors on February 6, 2006.
---