Mayor Breed Releases Five-Year Fiscal Plan for the City and County of San Francisco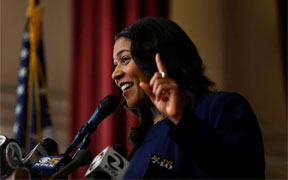 Mayor London N. Breed today announced the release of San Francisco's Five-Year Financial Plan for Fiscal Years (FYs) 2019-20 through 2023-24. The Financial Plan projects that while the City will experience continued strong, but slowing, growth in tax revenues over the next five years, the cost of City services will outpace growth in tax revenues, resulting in ongoing structural deficits.
If the City does not take corrective action, the projected gap between revenues and expenditures will increase from a deficit of $107 million in FY 2019-20 to approximately $644 million by FY 2023-24. The City's budget deficit for the upcoming two fiscal years, FY 2019-20 and FY 2020-21, is projected to be approximately $271 million.
"We need to make sensible choices in the short-term because while we continue to enjoy good economic times and strong revenue growth, we know that we cannot expect that to continue forever," said Mayor Breed. "I am committed to making sure we are helping the residents of our City who have the greatest needs, and that we are spending City funds effectively and efficiently."