Mayor Lee and San Francisco Interfaith Council Announce New Immigration Defense Fund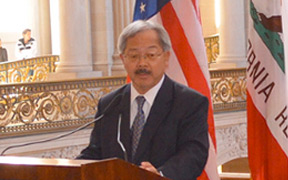 Mayor Edwin M. Lee announced today that the City and County of San Francisco in partnership with the San Francisco Interfaith Council will launch a new funding program that will provide resources and support to non-profit and community-based organizations serving immigrant communities.
The new Immigration Defense Fund will bolster San Francisco's frontline immigrant-support organizations. These non-profit and community groups provide legal representation at deportation hearings, citizenship and asylum services, and legal counsel for unaccompanied minors, among a bevy of other services.
"San Francisco, is and always will be, a Sanctuary City for all residents," said Mayor Edwin M. Lee. "If our citizens live in fear of being deported, they are not visiting hospitals, going to their jobs, or even sending their children to school. When we support our residents, San Francisco is a healthier, safer, and more productive place to live. These organizations fulfill crucial roles for our immigrant communities and we are committed to upholding their mission. San Francisco will stand shoulder-to-shoulder with our immigrant communities and fight for the progress we've achieved in this City."