Urban Revitalization: Mayor Announces New Living Innovation Zone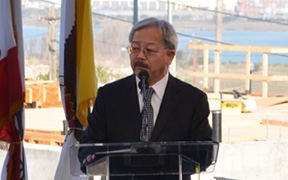 Mayor Edwin M. Lee today unveiled Sound Commons in United Nations Plaza, a new Living Innovation Zone (LIZ) partnership with the Exploratorium and San Francisco Planning Department.
Sound Commons is a sound-based installation composed of interactive musical elements designed to encourage social interaction and play, also serves as a symbol to unite the Civic Center District. This LIZ project is part of an initiative designed to activate and restore Civic Center as a destination for all.
"The revitalization of Central Market has been remarkable, and we will continue to build on this momentum," said Mayor Lee. "We will leverage the Sound Commons along with investments from the new Fix-It Teams to continue to create a destination that increases social interaction, improves public spaces and enhances the quality of life for everyone to enjoy."