Childcare, School, and Extra-Curricular Programs
Office of the Controller - City Performance Unit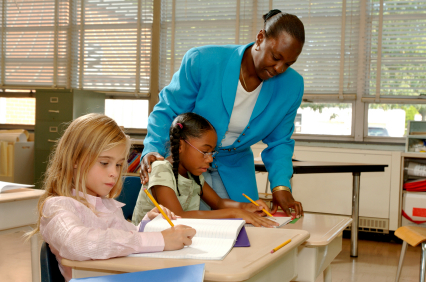 2018 Child & Family Survey
Childcare, School, and Extra-Curricular Programs
---
Twice as many families used licensed childcare as informal options
For the nearly half of families surveyed with at least one child age zero to five, a majority (64%) had a child enrolled in a licensed childcare or preschool program, while approximately one in three (29%) used more informal childcare systems, such as a family friend, neighbor, nanny, or family member other than a parent or guardian on at least a weekly basis.[1] While trends across age groups were similar, respondents with younger children were slightly more likely to use informal childcare than respondents with children ages three to five. The citywide rate is also consistent across income levels, though lower income respondents were slightly less likely to use informal childcare than those with higher incomes.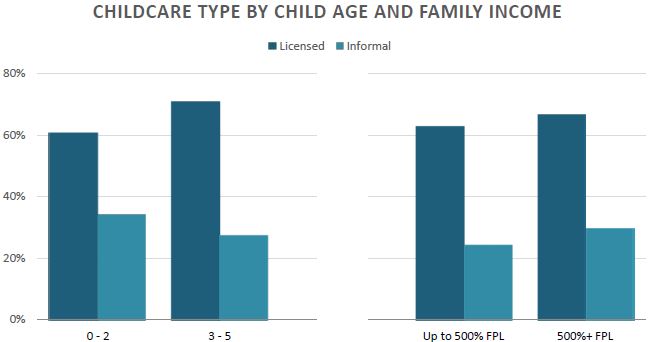 Of those respondents with a child enrolled in childcare or preschool, 96% said they were satisfied with the program. This survey found that neither the rates of childcare utilization nor satisfaction with childcare options varied significantly between demographic groups.
Cost, available space, and waitlists were the biggest challenges when securing childcare
Most respondents with children age zero to five (73%) agreed that childcare and preschool programs were accessible to them. However, they also shared what they thought were the biggest challenges that families face in securing childcare. Citywide, 42% of respondents thought cost was the most pressing challenge, while 22% and 14% said availability of childcare and waitlists[2] for programs, respectively, were the biggest hurdles. The most commonly cited challenges varied by ethnicity: 36% of Black respondents identified waitlists as a challenge, more than two and a half times the citywide rate (14%). Other important challenges citywide were program schedule and hours, location and convenience, and quality.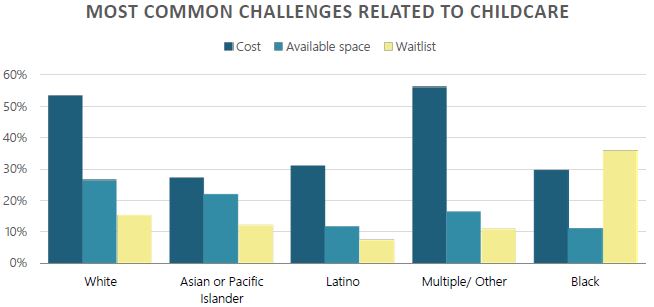 Respondents were satisfied with both their public and private schools
Charter school satisfaction was less favorable than both public (SFUSD) and private schools, with 71% of respondents reporting being satisfied with the quality. Respondents were more likely to be very satisfied with their private school (71%) than they were with their public school (49%). There were minimal differences in school satisfaction across ethnicity, child age, and income. An exception is that respondents with household incomes of less than 500% FPL were significantly more likely to be satisfied with the quality of their charter school than those who earn more. Additionally, 4% of respondents had one or more children who attend school outside of San Francisco.[3] 
More than one-third of White respondents had at least one child in private school
More than 50% of respondents of all ethnicities except White had one or more children enrolled in public school.

School enrollment varied by supervisorial district
In particular, more than half (54%) of respondents in district 2 had a child enrolled in private school, as compared to 3% in district 3.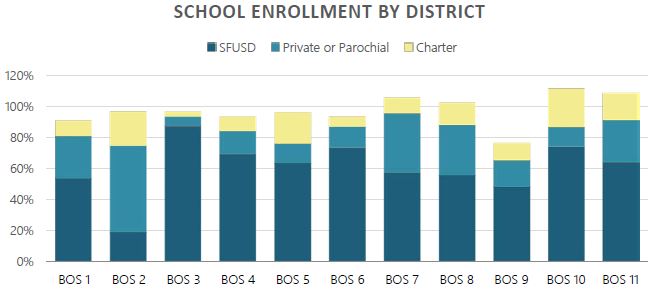 One-third of respondents had a child in after-school programs
Districts 3 and 6 had a significantly higher percentage of respondents with a child enrolled in after-school programs than other districts; summer program enrollment showed less geographic variation.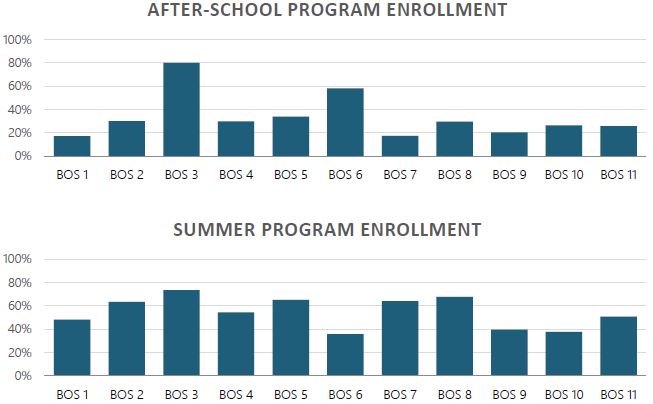 Respondents with higher household incomes used summer programs more than those with lower incomes
While respondents with household incomes above and below 500% FPL used after school programs at about the same rate, 33% and 31% respectively, respondents with higher incomes were more likely to have enrolled their child in summer programs, such as day care or camps.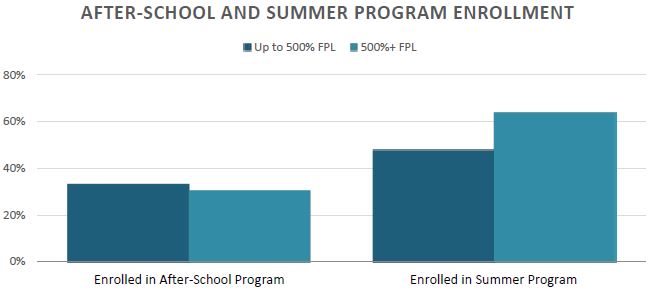 Cost is the most common barrier to after-school and summer program enrollment
Respondents with household incomes of more than 500% FPL were equally likely to cite cost (33%) and available space (32%) as barriers to enrollment. Alternatively, while a similar proportion of respondents with lower household incomes experienced cost as a barrier (29%), just 12% indicated space availability as a barrier.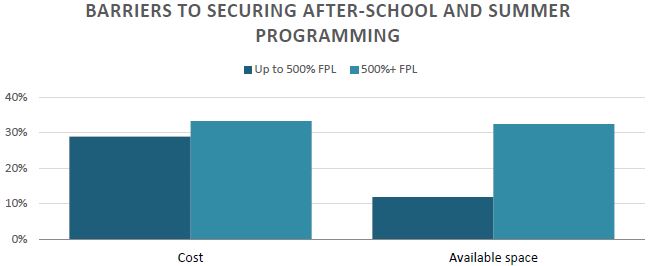 Respondents were satisfied with their after-school and summer programs
Nearly all respondents with a child enrolled in an after-school program (93%), and those with a child in a summer program (95%), reported being satisfied with its overall quality. This did not vary significantly across income brackets or supervisorial districts. However, Black respondents (77%) were less satisfied with their after-school programs than respondents of other ethnicities.
Most respondents read to their children under five nearly every day
While 93% of respondents either agreed or strongly agreed that they read to their children every day, the strength of that agreement varied significantly across ethnicities and income levels. Fewer than 60% of Latino and Black respondents with children under age five, and 70% of respondents with household incomes less than 500% FPL, strongly agreed that someone in their household read to their child(ren) every day.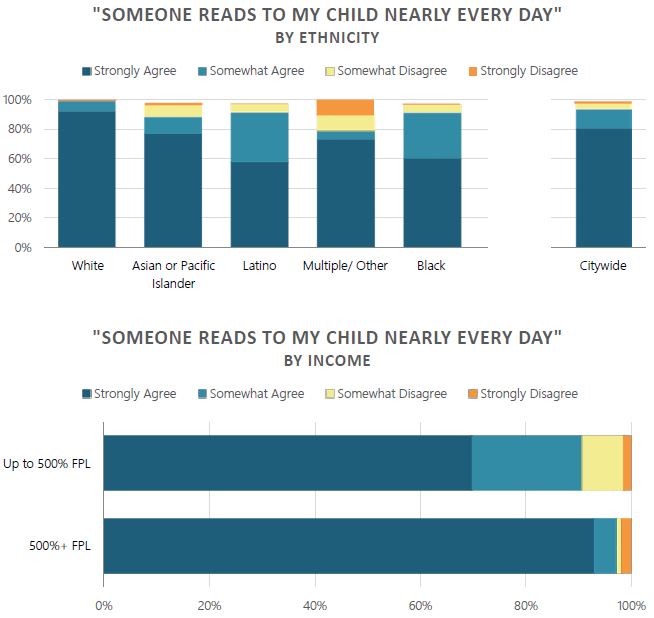 ---
[1] The survey did not link individual children by age to types of care.
[2] There are a variety of waitlists maintained by different organizations for both City and non-City programs, none of which were specifically mentioned by respondents.
[3] The chart "School Enrollment" shows the percent of respondents who have at least one child enrolled in each school type.