Kindergarten to College Fund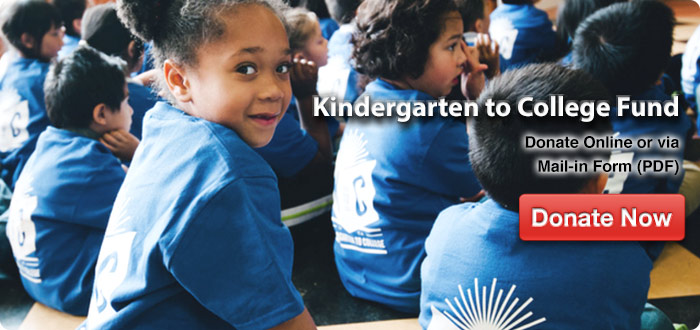 Kindergarten to College Fund
Helps San Francisco students and families save for post-secondary education.
Builds a college going identity for our children.
Promotes financial capability for students and families.
Every student deserves the chance to go to college. Children with just $500 in savings are three times more likely to go to college than those without any savings.
Spearheaded by the Treasurer-Tax Collector of the City of San Francisco, in partnership with the San Francisco Unified School District (SFUSD), San Francisco created the first universal children's college savings account program in the nation. Each SFUSD kindergarten student is provided a Kindergarten to College (K2C) account with an initial $50 deposit.
Private funds are raised to provide additional savings incentives for students and families, deliver financial literacy lessons, reward students with scholarships for early academic performance, and program materials. Every $100 in donations provides the financial encouragement for a student or family to save for post-secondary education.
31,000 students in 90 public SFUSD elementary and middle schools already have K2C accounts. Thousands of students and families have saved $3 million of their own money with the help of incentives. Show your support by donating to K2C. Every little bit goes a long way in showing our children we believe in their futures.
For more information, go to www.k2csf.org