In Clinical Settings
Overview
Current Projects of the Asthma Task Force Clinical Committee: 
(1) Asthma Network Forum
The Clinical Committee holds an annual Asthma Network Forum to provide peer networking and continuing education to improve the asthma standard of care in all San Francisco clinical settings.  Many of our featured speakers focus on improving knowledge of clinical management tools, as well as patient and provider communication and patient engagement in asthma management and control.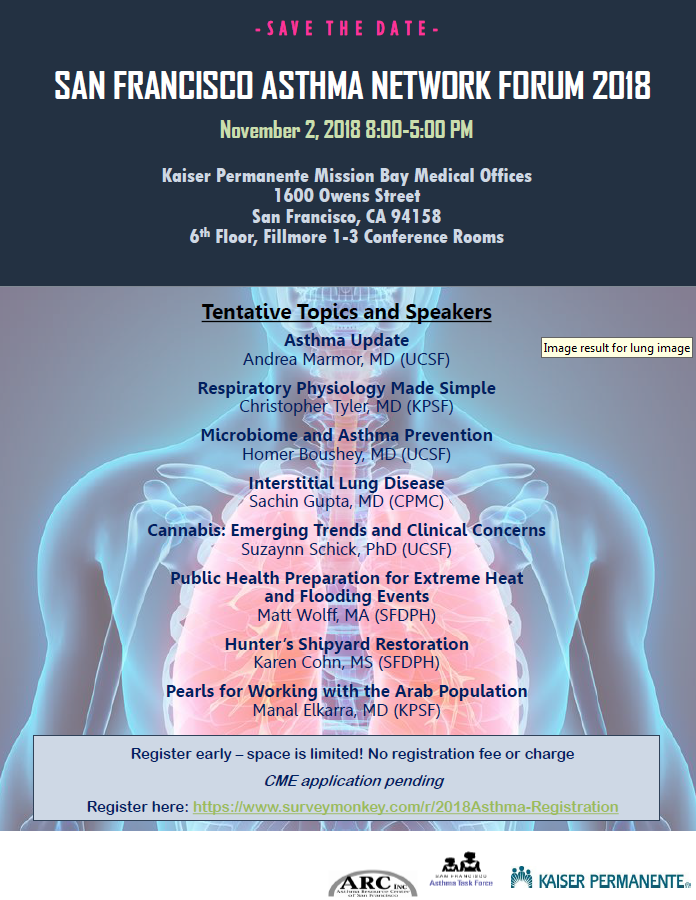 Update, Physiology, Interstitial Lung Disease, Cannabis, Extreme Heat and Flooding, Hunter's Shipyard Restroration, Working with Arab Population
Brochiectasis, Housing Security, Racism, Food Allergy, Medications, Patient Communication, Psychosocial Stress, Genetics
Asthma Education, Phenotypes, Management, Pulmonary Hypertension, Sleep Apnea, LGBTQ Patients, Public Housing
SFHP Asthma Care Program, Work-Related Asthma, Food Allergy, Air Pollution
Why Does Toxic Stress Matter to the Prevention and Control of Asthma?
Promoting Spirometry in Primary Care
(2) Asthma Clinical Care Quality Improvement 
The Asthma Task Force has completed two human subjects research projects to assess the perceived causes and ways to prevent pediatric asthma hospitalizations. Research findings and recommendations are available in the linked August 2013 report.
(b) Quality Improvement of Office-Based Spirometry 
The Asthma Task Force produced four-minute videos which demonstrate how to coach patients to produce a reliable office spirometry test, including how to use a spacer with an albuterol inhaler. The videos are presented with narration and summary titles in seven languages: English, Spanish, Cantonese, Mandarin, Vietnamese, Russian and Tagalog; see Asthma Task Force YouTube channel.  These videos may be used free-of-charge via the internet by providers at any clinical setting.
The Task Force has also supported start up costs for the San Francisco Community Primary Care Spirometry Program, based at SFGH.  We are pleased to announce that our program has been chosen as one of four sites to participate in the National Asthma Control Initiative (NACI) Spirometry 360TM Train-the-Trainer Program, initiated at its May 3rd, 2012 continuing education conference for members of the San Francisco Community Primary Care Spirometry Program Network sponsored by SFGH Respiratory Care Services and the SFGH Division of Pulmonary Medicine.  This continuing education conference represents the first step in our development as a certified Spirometry 360 provider.  Contact Eula M. Lewis, RRT, CTTS , RCS Outpatient Coordinator and Program Director of S.F. Community Primary Care Spirometry Program, (email: ELewis@sfghsom.ucsf.edu; pager: (415) 327-0821; phone: (415) 206-5738) for further information. 
(c) Additional Resources 
Clinician Resources for Asthma Management Best Practices and CME Continuing Education
Order Asthma Action Plans (English, Spanish, Chinese & Vietnamese)
Pocket Guide:  Evaluating an Adult Patient for Asthma (2010), SFGH Asthma & COPD Program, Healthy SF
Poster:  Pediatric Asthma, Our Standard of Care (2008), SFGH Pediatric Asthma Clinic
Find Patient Resources for Asthma Management
(3) YouTube site for Asthma Task Force videos