Sourcing & Serving Sustainable, Healthy Food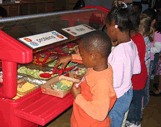 The City and County of San Francisco have teamed with Om Organics, a local non-profit organization, and FarmsReach to a bring searchable databases of sources for sustainable, healthy food to consumers and institutional purchasers. If your business is not in their database, you can ask to be in the FarmsReach database.
Individuals and organizations looking for more information on healthy and sustainable food can learn more:
Restaurants and Institutional purchasers
Institutions and Restaurant purchasers will be able to search the wholesale FarmsReach database. Health care institutions can learn more about food issues from Health Care without Harm.
Sustainable Table lists a wealth of resources for schools and other cafeterias on healthy and sustainable foods.
City and County of San Francisco Employees
City employees should follow a number of City policies which encourage the purchase of healthy, organic and sustainable foods for City meetings, events, etc.
Looking for locally grown, sustainable foods for meetings, events, and trainings:
As a City employee if you are planning to serve food, you should try to follow the DPH's Guidelines for Healthy Meetings. That includes food provided out of pocket, by pharmaceutical companies, or from a grant.
Planning a catered event? The Society for Nutrition Education publishes Guidelines To Increase The Use Of Local Foods At Meetings.
Some caterers and stores have a city vendor ID. Additionally, the DPH has produced a handout (pdf) listing vendors of healthy, sustainable food, many with City Vendor IDs. This list is not comprehensive.
Finally, here are some suggested steps for city employees who want to set up user friendly systems to access healthy and sustainable foods:

1. Contact the appropriate contract office staff in your department to see if the sustainable food vendor you would like to work with is approved to do business with the city and county of San Francisco.

2. Contact the sustainable food vendor you would like to work with to further research their accounting systems and suggest a blanket purchase order (BPO). See sample letter to Rainbow Grocery(word).
3. Work with your contracts unit to set up a BPO with the vendor. (word).

4. Once the BPO is processed contact the vendor to set up accounting and purchase systems that work best for them. Produce materials to let staff know how to buy sustainable foods (pdf).
Vendors can apply for a vendor id to do business with the City and County of San Francisco. If you sell healthy and sustainable foods and would like help with this process, please contact us.