Community Services Supervision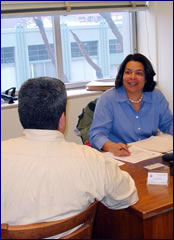 The Division is committed in applying Evidenced-Based Probation Practices to the case management of offenders in order to meet the needs of probationers, increase the likelihood of success, and positively impact public safety. The utilization of best practices is intended to reduce/eliminate additional law violations, by addressing the needs identified through the use of a risk and needs assessment tool.  Community Services Supervision consists of applying a collaborative effort with all stakeholders in the community who are impacted by the offender's behavior. The department partners with other criminal justice agencies, treatment providers, and other City organizations to better serve the Courts, probationers, victims, and the community.
The Division has increased its number of specialized caseloads that focus on the complex issues facing San Francisco's adult population of offenders. This is evident by the development of the caseloads such as: The Community Justice Court (CJC), Homeless Outreach, 18-25 Transitional Young Adult Program, Drug Court, Drug Diversion, and DUI Program.