Green Connections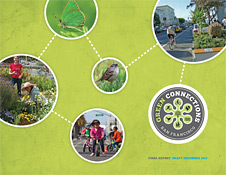 The final Green Connections Plan
is here!
Thank you to all the community organizations, businesses, and residents who participated in this project. On this page, you can download and read the final plan, in addition to browsing all of the project materials.
About the Project

Green Connections aims to increase access to parks, open spaces, and the waterfront by envisioning a network of 'green connectors' – city streets that will be upgraded incrementally over the next 20 years to make it safer and more pleasant to travel to parks by walking, biking, and other forms of active transportation.
The project aims to make the City more healthy, sustainable, and livable through features such as pedestrian and bicycle infrastructure, street trees and other landscaping, stormwater management, and opportunities for beautification, public art, and community stewardship.
Green Connections is a two year project, funded by planning grant from the State of California Strategic Growth Council. The deliverables of the project include:
Just Launched:

SF Plant Finder - SF Plant Finder is an online, searchable database that provides gardeners and designers with recommendations for climate-appropriate plants they can use in backyards, rights-of-way, and other urban spaces to support ecological diversity.
Green Connections Network: A map of 24 routes, totaling 115 miles of streets across the City that will be improved to better connect people to parks and open spaces.
Design Toolkit: A set of 18 design typologies for street intersections and blocks that could be applied to routes based on local conditions and priorities.
Green Connections Community Resource List: A guide for commu­nity members who want to get involved in designing and implementing Green Connections routes, which includes examples of programs, grants, and other resources available to help.
Green Connections Ecology Guides: A narrative describing each route and providing recommendations for plants that promote target species and habitats – plants and animals that serve an important ecological function and are ideally suited to the area.
Neighborhood Concept Designs: Preliminary designs for routes in Bayview-Hunters Point, Chinatown, Potrero Hill, Tenderloin, Visitacion Valley, and Western Addition.
Partners
The project is a collaborative effort of the San Francisco Planning Department, San Francisco Municipal Transportation Agency, San Francisco Department of Public Health, the Mayor's Office of Housing, and three community-based organizations Nature in the City, San Francisco Parks Alliance and Walk San Francisco.
News Articles
March 2017: A Wild Plan for San Francisco, PBS
Plan Documents
Presentation to Planning Commission, March 13, 2014
Green Connections Final Plan: March 2014
Plan Document
LARGE PDFs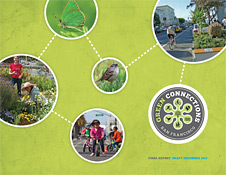 Open House Material
Open House #3
Date: Wednesday December 4, 2013 from 5:30 - 7:30 pm
Location: San Francisco LGBT Center, Rainbow Room (1800 Market Street)
Open House Boards
Open House #2
Date: Wednesday October 3, 2012 from 5:30 - 7:30 pm
Location: San Francisco LGBT Center, Rainbow Room (1800 Market Street)
Open House Boards
Open House #1
Date:

Wednesday

February 15, 2012  from 5:30 - 7:30 pm
Location: San Francisco LGBT Center, Rainbow Room (1800 Market Street)
Open House Boards
Videos from the Kick-Off Event: How do you envision a Green Connection?
Next Steps
Green Connections is a long-term planning project that sets high ambitions for improving 115 miles of our streets over a twenty-year period. Green Connections will not create a new program; rather, it calls for coordinating with existing initiatives for traffic calming, stormwater management, and bicycle and pedestrian improvements. The scale of the Green Connections network creates opportunities to coordinate with city projects and private development. Additionally, community members and neighborhood groups will play an important role in the Network's development.
For more information on how the plan will be implemented, please refer to Chapter 6: Implementation in the Green Connections Plan. The SF Better Streets website also provides information and resources for community members who want to get involved in improving streets with greening, beautification, and bike/pedestrian improvements.
Contact Us
For questions, comments and more info on this project, please contact:
Kearstin Dischinger
Project Manager
Planning Department
(415) 558-6284