Ocean Avenue Corridor Design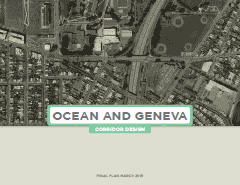 The Ocean and Geneva Corridor Design Final Report is complete!
Thank you for participating in this project! On this page, you can download and read the final plan, in addition to browsing all of the related background project materials.
Read the Final Report here.
Project Overview
Ocean Avenue is a key pedestrian, bicycle, and transit connection between the Balboa Park BART and Muni Station, Balboa Park, San Francisco City College Main Campus, Lick-Wilmerding High School, Phelan Loop Muni terminal, and the Ocean Avenue commercial district. 
The Ocean Avenue Corridor Design project will:
Identify streetscape improvements that can be implemented in the near term on Ocean Avenue from Manor Drive to Phelan Avenue with funding that has been allocated from the Road Repaving and Streets Safety Bond (Prop B)
Develop a longer term vision and implementation plan for Ocean Avenue from Phelan Avenue to San Jose Avenue. 
A significant amount of planning and study has been done for the Balboa Park area and Ocean Avenue, including circulation studies, design concepts, conceptual engineering, and initial recommendations. This project will build on the analysis and recommendations of previous efforts, including:
This project is an interagency effort of the San Francisco Planning Department, the San Francisco Department of Public Works, and the San Francisco Municipal Transportation Agency.
Events
None at this time. Documents from the Final Open House (2/11/15) located below.
Study Area
The Ocean Avenue Corridor Design project includes the length of Ocean Avenue from Manor Drive to Mission Street and Geneva Avenue from Phelan to I-280. Click here to download a map of the study area.
Timeline
Project Timeline

January 2014 - August 2015

Analysis, Planning, Design
 
July 2014 
 
Conceptual design for Ocean Avenue between Manor Drive and Phelan Avenue 
In 2011, San Francisco voters passed the Road Repaving and Streets Safety Bond. Funds from this bond have been allocated toward the planning and construction of Ocean Avenue from Manor Drive to Phelan Avenue. Following completion of the conceptual design, the Department of Public Works will begin preparing this portion of the project area for construction. A more detailed schedule will be announced in July 2014.
Materials & Links
Final Open House
Public Workshop #4
Public Workshop #3
Public Workshop #2 (May 14, 2014)
Event Flyer ( 中文 )
Workshop #2 Survey - Now closed - thanks to all participants!
Site Walk (March 8, 2014)
Public Workshop #1 (March 12, 2014)
Site Walk and Workshop #1 Announcements
Related Links
Contacts
To be added to the mailing list and kept informed of the project's progress sign-up for at our website http://signup.sfplanning.org (make sure to choose Project Updates: Ocean Avenue Corridor Design under Sign me up for:)
Lily Langlois
Project Manager
San Francisco Planning Department
(415) 575-9083
lily.langlois@sfgov.org
Patrick Race
Urban Designer
San Francisco Planning Department
(415) 575-9132
patrick.race@sfgov.org

John Dennis
Project Manager
San Francisco Department of Public Works
(415) 558-4495 
john.dennis@sfgov.org
Richard Kurylo
Invest in Neighborhoods, Office of Economic and Workforce Development
(415) 554-6680
richard.kurylo@sfgov.org