Showplace Square Open Space Plan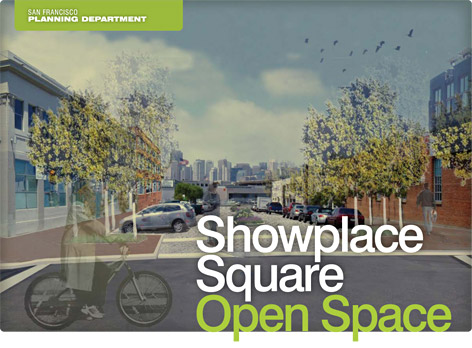 Overview
In 2009, Supervisor Sophie Maxwell and the San Francisco Planning Department convened the Showplace Square Open Space Planning Process. The purpose of this process was intended to identify, design, and prioritize the community's open space needs, continuing the work of the Eastern Neighborhoods Plan, which became law on January 19, 2009. The Showplace Square Open Space Plan was completed in the Spring of 2010, and is now being implemented by the Planning Department in conjunction with other City agencies.
Upcoming Events
Past Events
Civic Design Review for the Daggett Park
Monday, January 23, 2012 at the San Francisco Arts Commission
Click here to download the Daggett Park Proposal for Civic Design Review
Designing Daggett Park
Wednesday, September 7, 2011 at the California College of Arts
The purpose of this meeting was to help finalize the design for a new public park on the Daggett Street right-of-way. The proposed design is based on the initial design developed by the community and City staff as part of the Showplace Square Open Space Plan. Click here to see the initial and proposed design.
Informational presentation to the Planning Commission
Thursday, July 8, 2010 at City Hall
Scoping Meeting - Wednesday, April 29, 2009
Click here to view the presentation from that meeting.
Walking Tour - Tuesday, June 16, 2009
The purpose of the walking tour was to familiarize the public and Planning staff with potential open space opportunities and constraints in Showplace Square. Download Walking Tour map.
Meeting #1 - Wednesday, June 24, 2009
The purpose of this meeting was to identify the community's open space needs, and to discuss open space opportunity sites identified in the Showplace Square/Potrero Hill Area Plan.
Meeting #1A - Tuesday, July 21, 2009
The purpose of this meeting was:
To have the opportunity to identify additional open space opportunity sites within Showplace Square, and to consider how these might connect into a green network, and
 
To have a focused discussion about the Norcal site and the surrounding streets, including Channel St. and Berry St.
Meeting #2 - Wednesday, September 23, 2009
The purpose of this meeting was to present the Planning Department's preliminary concepts for an open space network serving Showplace Square. These concepts represent a synthesis of the input we've received from the community thus far. Our presentation included initial thoughts on individual open space sites, as well as how these sites might be connected within Showplace and to the surrounding communities. During this meeting, the community was asked to help us refine and/or revise these initial concepts.
Meeting #3 - Wednesday, December 2, 2009
This meeting was a culmination of the work we've done thus far. It included conceptual designs for the open space sites we presented at the Meeting #2, updated with the comments we received at that meeting. We also asked the community to help us prioritize these potential open space projects.
Informational presentation to the Planning Commission - Thursday, January 28, 2010