Twin Peaks Public Safety Radio Tower Upgrade Project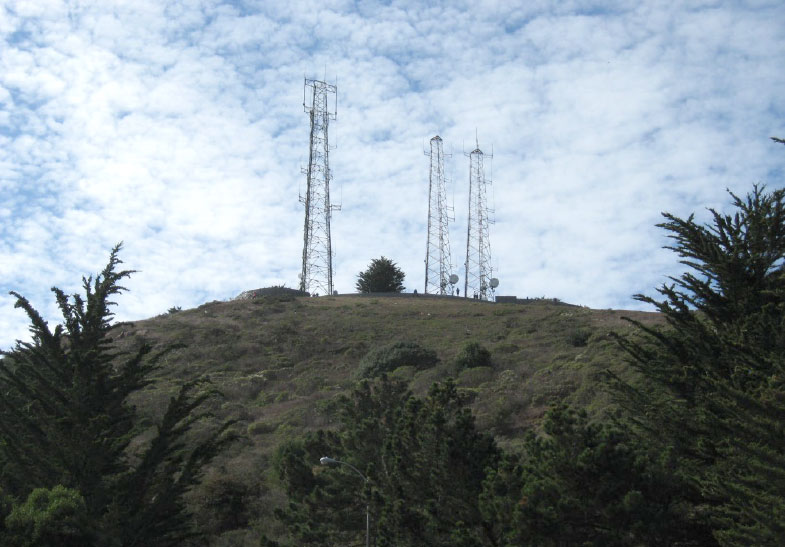 SIMULATION: Temporary site condition during construction with three (3) towers.
There are two (2) 180-foot tall steel towers at the Twin Peaks hilltop site (1 Christmas Tree Point Road) along with a smaller set of antennas on the roof of the main transmission building situated between the towers. The City and County of San Francisco is proposing to replace one of these radio towers and repair the other. For a period of roughly one year, there will be three towers at Twin Peaks (see photo simulation).
The southernmost tower can be structurally strengthened without affecting its size and shape. Due to structural deficiencies, the northernmost tower will need to be replaced with a similar-sized tower. A new tower of similar height and size will be built east of the existing tower to maintain essential public safety communications during construction.
The older existing tower will be removed once the new tower is completed.
Project Details / FAQs
How long will there be three towers?
Construction is likely to begin on the new tower in mid-2016. It is estimated that it will take up to a year for the new tower to be built, the antennas to be relocated and tested, and the existing tower to be torn down.
What are the towers used for now, and what will they be used for in the future?
The towers primarily serve public safety radio systems used by police and firefighters. The towers also serve other City agencies, such as MUNI, the SF Public Utilities Commission, and the Department of Technology. In addition, an FM radio transmitter is operated from the tower under a license held by the San Francisco Unified School District. Both towers are intended to continue serving public safety and public service operations.
Are there cellular antennas on the towers?
There are no commercial personal wireless (cellular) systems on either tower or the main building.
Can all the towers be removed, and the antennas moved onto Sutro Tower instead?
No. Sutro Tower is a privately-owned facility serving primarily commercial FM radio and TV stations. The Twin Peaks location is City-owned, and an important part of a specifically designed multi-site network of public safety radio sites serving San Francisco.
Will there be a reduction in parking or access to the public observation area next to the towers?
The new tower would not result in the permanent loss of parking; however, some parking and observation areas may need to be closed-off temporarily during construction.
Does this project require a public hearing before the Planning Commission or Board of Supervisors?
No. Per the Planning Code and Wireless Siting Guidelines, changes to a publicly-operated communications system on a publicly-zoned lot can be approved administratively by staff (San Francisco Planning, Department of Building Inspection, and SF Fire Department). An environmental application was prepared, and is currently under review with San Francisco Planning.
Related Documents
Contact
San Francisco Planning Department
CPC.wireless@sfgov.org
To learn how to get your home and neighborhood prepared for emergencies, visit: www.sf72.org