April 08, 2019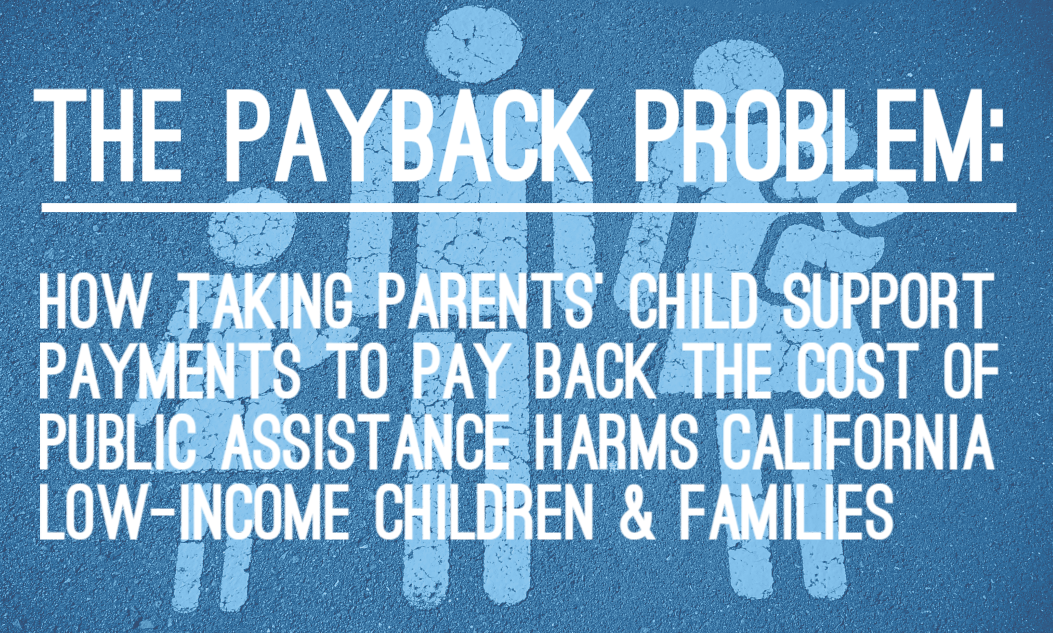 The Financial Justice Project co-authors report:
The Payback Problem: How Taking Parents' Child Support Payments to Pay Back the Cost of Public Assistance Harms California Low-Income Children & Families
When Ronnell was young, his mother struggled to raise him and his siblings on her own. Ronnell's father worked as a maintenance worker and had $600 garnished from each pay period for child support, but only $50 of that payment came to his mother. Ronnell remembers when their water was turned off and they had to go to a neighbor's house to use the bathroom and shower. "If my father's payments had come to us, there is so much we wouldn't have had to go through," said Ronnell.
Ronnell is not alone. Every year, hundreds of thousands of California children living in poverty do not receive all of the child support payments made by their parents. Low-income families only receive the first $50 of a parent's monthly child support payment; the rest is redirected to pay back the cost of public benefits.
Last fiscal year, $368 million in payments made by low-income parents went to the government, not to their children, according to the report "The Payback Problem," that The Financial Justice Project co-authored with other California organizations. We are releasing this report today. The report was featured in an op-ed authored by Financial Justice Project Director Anne Stuhldreher in the Los Angeles Times: Why Child Support in California Isn't Going Where It's Needed Most.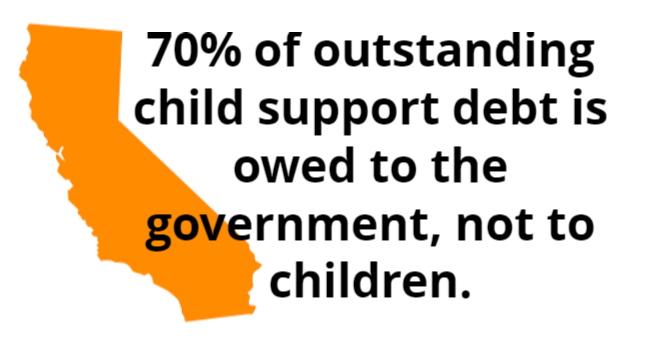 In California, 70% of outstanding child support debt is owed to the government, not to children. In the report, we find that requiring parents to pay back public assistance takes valuable resources away from children living in poverty, disproportionately harms children of color, and sets low-income parents up to fail. The penalties that kick in when someone can't afford to pay – including ten percent compound interest, suspending driver's licenses and incarceration- are counterproductive and set low-income parents up to fail.
Momentum is building for reform in California.  California Sen. Nancy Skinner (D-Berkeley) introduced Senate Bill 337, which would require that 100% of parents' payments go to their children and would end public assistance payback requirements in California. When Colorado enacted this reform, child support payments in the state jumped 63%. Families' reliance on welfare and food stamps went down too. Another bill put forward by Assembly member Reggie Jones-Sawyer (AB 1092) would end the 10% interest rate on public assistance debt. Jones-Sawyer is also introducing a bill (AB 1091) that would extend a law that prevents public-assistance payback debt from growing while parents are incarcerated and cannot pay.
We are proud to co-author The Payback Problem with the Insight Center for Community Economic Development, PolicyLink, Tipping Point Community and Western Center on Law & Poverty.
Join us for a webinar on April 30th to learn more about the payback problem, its negative impact on low-income families of color, and how you can help advance reforms. Click  here to register for the webinar.
Yours in Financial Justice,
Anne & Christa