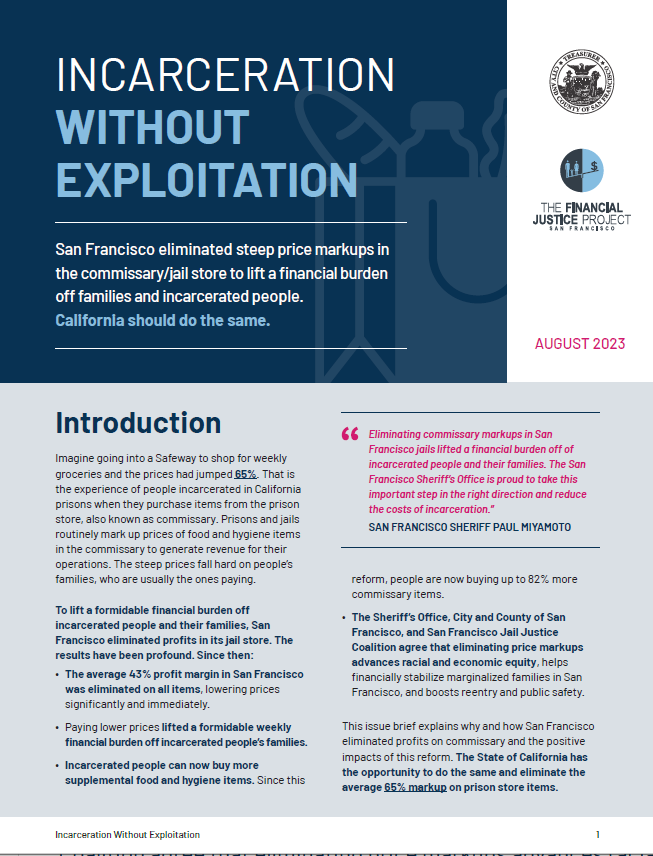 In 2020, San Francisco eliminated profits in its jail store, also known as commissary, to lift a formidable financial burden off incarcerated people and their families. The results have been profound. Since then:
 - The average 43% profit margin in San Francisco was eliminated on all items, lowering prices significantly and immediately.
- Paying lower prices lifted a formidable weekly financial burden off incarcerated people's families.
- Incarcerated people can now buy more supplemental food and hygiene items. Since this reform, people are now buying up to 82% more commissary items.
- The Sheriff's Office, City and County of San Francisco, and San Francisco Jail Justice Coalition agree that eliminating price markups advances racial and economic equity, helps financially stabilize marginalized families in San Francisco, and boosts reentry and public safety.
We are proud of our efforts to reduce the price of commissary in San Francisco jails. California can limit markups on basic goods sold in prison canteens across California by passing Senate Bill 474, the BASIC(s) Act (D-Becker) into law.This bill would support the health and well-being of incarcerated people, ease the financial burden for them and their families, and will improve reentry outcomes.