Zoning Map - Zoning Districts
Looking for zoning information for a specific address? Use the SF Property Information Map, enter the address, and select the Zoning Information section.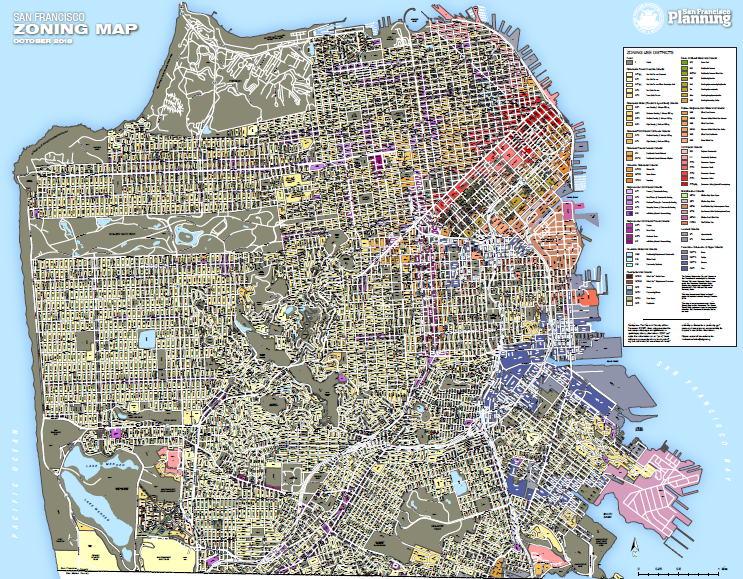 Cick above to download map.  |  UPDATED OCTOBER 2018  |  PDF 4.6 MB
Map Instructions
Above is a link to a PDF of the Citywide Zoning Map. Individual zoning districts on the map are labeled, along with block numbers. A concerted effort was made to maintain traditional coloring schemes for these zoning districts:
Residential is yellow
Neighborhood Commercial is purple
Downtown is red
Industrial is blue/gray
Mixed use in its multiple variants is light orange
Because of the many different zoning districts, one district is difficult to differentiate by color from its adjacent district, hence the labeling of districts. Please route any errors or omissions to michael.webster@sfgov.org.
The zoning data displayed on this map can be downloaded from data.sfgov.org.
Purchase a Copy of This Map
The Planning Department also sells full color 36" x 46" plots of this map for $75.00. To order please email Michael Webster at michael.webster@sfgov.org.
Other Zoning Maps
Zoning Use Dis

ict Maps

Height & Bulk District Maps
Special Use District Maps
Preservation District Maps
Coastal Zone Area Maps

Special Sign District Maps
by district can be downloaded from our Code publisher's web page.