Zoning Map - Height/Bulk Districts
Looking for zoning information for a specific address? Use the SF Property Information Map, enter the address, and select the Zoning Information section.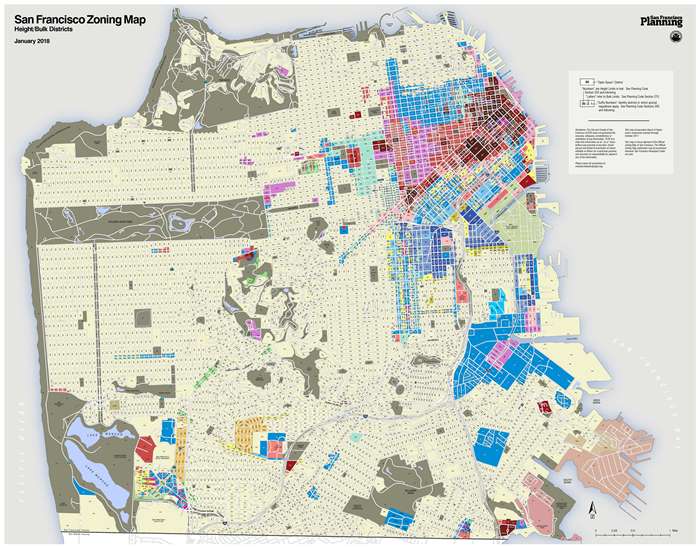 Cick above to download map.  |  UPDATED JANUARY 2018  |  PDF 8 MB
Map Instructions
Above is a link to a PDF of the Zoning Map Height/Bulk Districts.
Disclaimer: The City and County of San Francisco (CCSF) does not guarantee the accuracy, adequacy, completeness or usefulness of any information. CCSF provides this information on an "as is" basis without any warranty of any kind, including but not limited to warranties of merchantibility or fitness for a particular purpose, and assumes no responsibility for anyone's use of the information
This map incorporates Board of Supervisors ordinances enacted through July 2016. This map is not an element of the Official Zoning Map of San Francisco. The Official Zoning Map publication may be purchased wherever San Francisco Municipal Codes are sold.
Please report all corrections to: michael.webster@sfgov.org
The zoning data displayed on this map can be downloaded from data.sfgov.org.
Purchase a Copy of This Map
The Planning Department also sells full color 36" x 46" plots of this map for $75.00. To order please email Michael Webster at michael.webster@sfgov.org.
Other Zoning Maps
Zoning Use District Maps
Special Use District Maps
Preservation District Maps
Coastal Zone Area Maps
Special Sign District Maps
by district can be downloaded from our Code publisher's web page.