EPICENTER


ESIP Task A.1.a



The EPICENTER is a pop-up collaborative space for earthquake policy research and development. The center, a project of the San Francisco City Administrator's Earthquake Safety Implementation Program (ESIP), is aimed at engaging the public, working directly with design professionals, and the hands-on development of effective and innovative public policy aimed at reducing the impacts of earthquakes on San Francisco.

At our South of Market location, The EPICENTER strives to promote an effective, well-managed public sector and nurture a climate of civic engagement (SPUR, Good Government) by connecting professionals, policy makers, and the community in one space to ask the question: How can we make San Francisco safer from earthquakes tomorrow than it is today? Our mission, then, is simple: to collaborate, to innovate, and to educate.
The EPICENTER in action!

The Space

The EPICENTER is foremost a community-focused and community-based space. It is open to all design professionals, community groups, and other organizations wishing to hold meetings focused on earthquake safety, as well as open to hosting educational lectures, public working groups, trainings and workshops.

The EPICENTER hosts a seasonal lecture series with speakers regularly discussing issues and topics ranging from structural engineering to public policy to the latest in seismology. A calendar of events is available quarterly. In keeping with the pop-up collaborative nature of the space, it is also intended to be open as a co-working space to professionals working in the fields of seismology, earthquake-related public policy, structural or civil engineering, or architecture doing work related to earthquakes.

Our weekly lecture series is underway. For announcements please sign up for our mailing list!

Whenever possible, recycled office furniture and materials were used through SF Environment's Virtual Warehouse Program.


Location

The EPICENTER is located at 245 Third Street, San Francisco, CA 94103.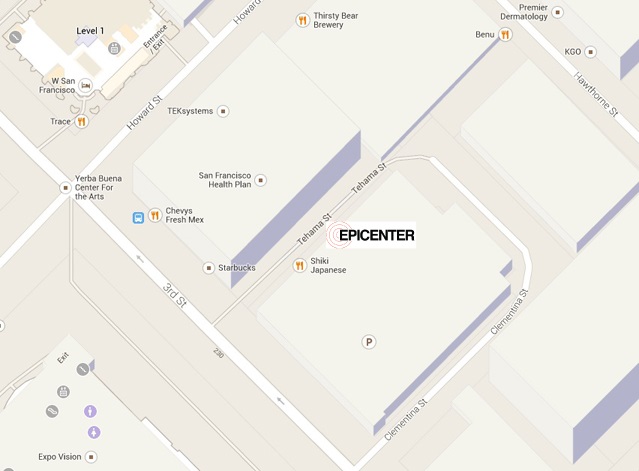 From Third Street, the EPICENTER is down and to the right in Tehama Alley, about a half a block south of Howard Street. The alley can be seen at the large red 201 sign by Starbucks.

BART and MUNI: The EPICENTER can be reached from both Powell and Montgomery Stations and bus stops near those stations. Additionally, the 8AX, 8BX, 8X, 12, 30, 45, and 91 busses stop at Folsom and Third.

By Car: The EPICENTER is located in the base of one of the SOMA pay parking lots. The entrance is located just after Clementina Alley and before Tehama Alley.

By Bike: The EPICENTER is accessible by walking down Third from the Market Street bikeway, as well as the Howard Street bike lane from the east and the Folsom Street bike lanes from the west (to Third Street). We are currently working on the installation of bike parking stalls and have limited bike storage inside.

The Epicenter from NENtv on Vimeo.
 
ESIP Internships and Fellowships
ESIP Task A.1.a

Intern groups are assembled seasonally (fall, summer, and winter-spring programs) to help advance the goals of the Earthquake Safety Implementation Program (ESIP) and to encourage students in their study of earthquake hazard mitigation. Internships with San Francisco's CAPSS/Earthquake Safety Implementation Program are currently available beginning in Fall 2013 and continuing through Summer 2016.

Applicants should be pursuing or have completed degrees in the areas of public policy, structural, civil or mechanical engineering, or architecture. Each intern or fellow will be guided by a professional practitioner to define and accomplish specific projects during their internship. Typically, interns work at least 20 hours per week at ESIP's storefront workspace, The EPICENTER, located in downtown San Francisco. Some sample projects: Research on new and innovative seismic retrofit solutions (dampeners, structural glazing, etc.), Private schools earthquake safety, Cripple wall upgrade program, etc. At this time, all internships are unpaid. Interested students should submit a resume and a short statement of interest, providing general information about their areas of interest and possible projects in fields related to seismic hazard mitigation.

Please submit all applications to patrick.otellini@sfgov.org.

We recommend that potential interns review the CAPSS reports and the ESIP Workplan.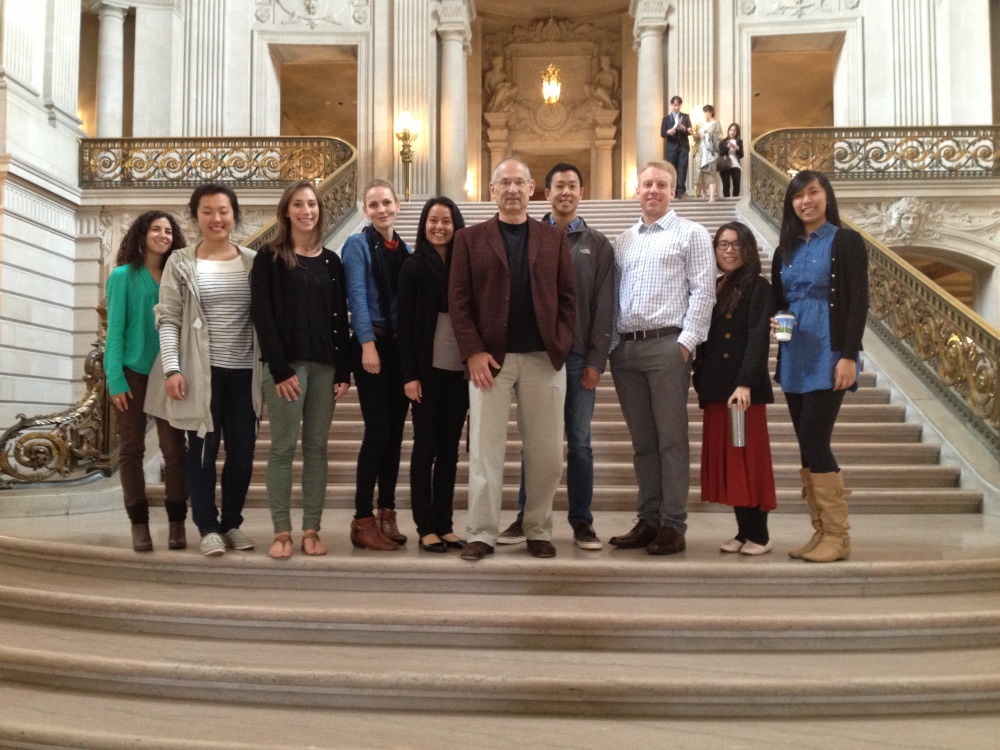 ESIP's 2013 Summer Internship Group