Soft Story
On the anniversary of the 1906 San Francisco Earthquake, Mayor Ed Lee signed into law the Mandatory Soft Story Retrofit Ordinance. This legislation requires the retrofit for all San Francisco "multi-unit soft-story buildings," defined as:  wood-frame structures, containing five or more residential units, having two or more stories over a "soft" or "weak" story, and permitted for construction prior to January 1, 1978. This program is currently active.
Mayor Ed Lee, President Chiu, Supervisors Breed and Wiener with Director of Earthquake Safety, Patrick Otellini at the 1906 Earthquake commemoration and signing of the Soft Story Ordinance.
The Mandatory Wood Frame Retrofit Program 
ESIP Task A.3.a
This site is a guide for San Franciscans to get up to date information about the Mandatory Soft Story Retrofit Ordinance and its requirements. Also, please note that throughout the page there are several links embedded into the content. These links provide additional information. Please check back regularly for updates! Please contact the Department of Building Inspection (DBI) for further questions.
The DBI Soft Story Program


415-558-6699 and softstory@sfgov.org
www.sfdbi.org/softstory



To Check the Status of Your Building


Click Here
Revision Date: August 9, 2016 (MPH/SL/PO)
This ordinance, located here for download, requires the retrofit of all San Francisco buildings that meet ALL of the following criteria:
Wood frame construction (Type V), and
Application of permit for original construction was prior to January 1, 1978, and
Five or more residential units, and
Two or more stories over a basement or underfloor area that has any portion extending above grade, and
A soft story condition that has not been seismically strengthened to the standards set forth in the ordinance.
The ordinance was signed into law on April 18, 2013 at the annual commemoration of the 1906 San Francisco Earthquake and became operative as of June 17, 2013 and is current law in San Francisco. Currently, buildings potentially within the scope of this ordinance were noticed on September 15, 2013 and all notices were due back to the Department of Building Inspection (DBI) as of September 15, 2014. Each building determined by a licensed design professional to be a part of this program will be required to retrofit within the time specified by their tier assignment. 
For a comprehensive list of each building's status, including tier assignment and status in the program, please click here. 
Currently more than 5,000 San Francisco buildings are required to participate in the program, 75% of screened buildings. More than 1700 buildings have filed for or been issued a permit and more than 700 owners have completed their required retrofit. Act today! 
Please see the below for more information about the noticing, screening and tiers, as well as information for tenants, property owners, and engineers.
DBI Leaders and Director Otellini held a workshop for hundreds of property owners
with questions about the soft story program and screening process

1. Noticing and Screening 
On September 15, 2013 the City issued notices to all wood frame buildings containing five or more dwelling units, two or more stories, and permitted for construction prior to January 1978. Notices were sent to building owners at the address used for property tax notification within the Assessor's Office databases. All property owners were, and still are, required to complete a screening form if noticed, regardless of their building's configuration or previous retrofit status. Screening forms are required to be completed by a licensed design professional.
Buildings within the scope of the program that have completed work to the standards of the ordinance, have completed an AB-094 voluntary retrofit, or are not soft story buildings will not be required to go any further than the screening process in the program by opting out of the program and its requirements using the optional evaluation form or the screening form respectively. Both forms must be completed in all cases by a licensed engineer or architect, except in cases where AB-094 work was completed.
Through the screening process each building that is subject to the ordinance will be assigned a tier and must be evaluated and begin the process of complying with the ordinance. This tiered approach will allow work to be phased and account for many of the conditions present within this subset of San Francisco's unique building stock.
All Screening Forms are past due, as of September 15, 2014. All owners who have not completed this form, do not complete this form, or fail to remedy having not completed this form, are in violation of the San Francisco Building Code (See our Violation section below). Each building's status within the program can be found in the DBI Soft Story Mandatory Retrofit Program (MRP) Database. 
2. Permits for Work 
All buildings that are screened into the program (i.e., by the screening form) are required to have permits for work by the date specified by their tier. This information is available for each building in the DBI Soft Story Mandatory Retrofit Program (MRP) Database. Please visit the DBI Submittal Procedures website (linked here) for details about applying for a permit. 
Also, please review our Engineers and Contractors Section below for more information about required engineering guidelines and the selection of a design professional.
Compliance Tiers
Tier I- Any building containing educational, assembly, or residential care facility uses (Building Code Occupancy E, A, R2.1, R3.1, or R4).
Tier II- Any building containing 15 or more dwelling units.
Tier III- Any building not falling within another tier.
Tier IV-  Any building containing ground floor commercial uses (Building Code Occupancy B or M), or any building in a mapped liquefaction zone.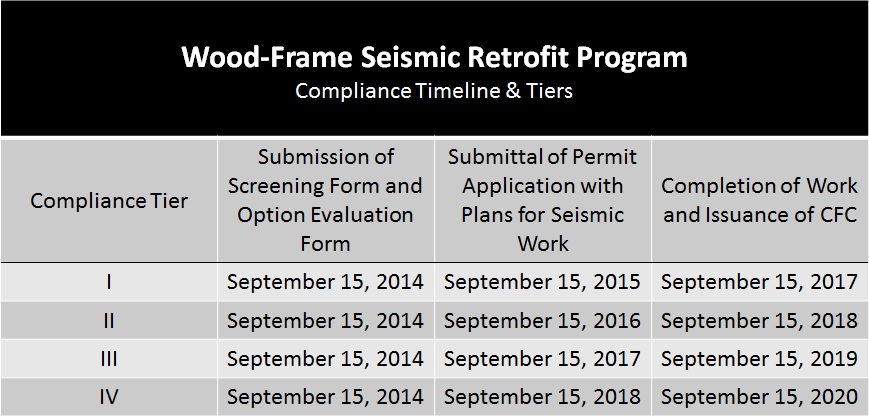 3. Completion of Work
The work must be completed in full with a Certificate of Final Completion (CFC) issued by the date specified by your compliance tier (above). Please refer to the chart above for your date. 
Buildings in Violation
Buildings that are in violation of this program are subject to the enforcement of the San Francisco Building Code. The Department of Building Inspection (DBI) handles fines and fees, notices, other actions, and placarding. Buildings that are in violation of this program will be placarded with an "Earthquake Warning" placard noticing the building's owner, tenants, and general public of the risk posed by the building. Buildings upgrades that are not completed in the time required, apply for a permit in the time required, and/or do not complete the screening process successfully are/will be in violation.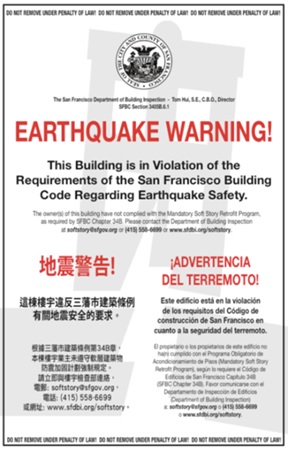 The Soft Story Mandatory Retofit
Program violation placard
Video recording of the October 28, 2013 ESIP and DBI hosted Mandatory Retrofit Program Workshop
The Mandatory Soft Story Retrofit Program (MRP) is designed to prepare buildings with a known weakness, or "soft story" condition for an earthquake by requiring a seismic retrofit. All buildings that could potentially contain this condition were noticed, and each building that was noticed in September 2013 is required to be screened "in" or "out" of this program. The deadline for screening passed on September 15, 2014.
Please visit the Department of Building Inspection Soft Story website to see the status of your building.

All buildings that have been screened "in" the program are required to retrofit, according to its compliance tier, above. All buildings that have been screened "out" of the program are not required to take any further action. 
The Earthquake Retrofit Fair

Residential Properties Containing Commercial Uses
Through the screening process it is believed that 700 buildings contain a space permitted for commercial use. To help ease the process of complying with this program, the Earthquake Safety Implementation Program has worked directly with the Mayor's Office of Small Business, who can offer assistance to small businesses navigating this process. Please contact them at 415-554-6134 for any questions.


Cost Passthroughs
All work within the scope of this ordinance, as certified per San Francisco Rent Board procedures governing "Seismic Work Required by Law," will be subject to related passthrough regulation and allowances. This work may be passed along at 100%. Although, tenants facing hardship may use the hardship appeal process for passthroughs. Tenants meeting Rent Board criteria will be able to apply for appeal on the basis of financial hardship passed through rent increases resulting from the work. Please click here for that application

On October 10, 2013, Mayor Ed Lee signed into law provisions that clarify the existing process for residential tenant financial hardship, allowing tenants who can not afford the capital improvement passthrough of the costs of a mandatory seismic retrofit a clearer and simplified path to being granted a hardship exemption as well as clarifying those procedures for property owners. The language of the ordinance can be downloaded here. Also, please contact the San Francisco Rent Board for question at 415-252-4602.


Retrofits: General Information
The retrofits required under this program do not extend above the first floor, and may be completed using the criteria listed below in the Engineers and Contractors Section. Through the Community Action Plan for Seismic Safety (CAPSS) analysis, it is believed that these retrofits will cost between $60,000 and $130,000, depending on the building size. Please visit our Soft Story Financing Page for more details about financing.


ADA Compliance
This work may trigger disabled access upgrades to commercial spaces. A few important facts to note: (1) Residential spaces are exempt from compliance in all buildings constructed prior to March 13, 1991; (2) Any privately owned building with ground-floor commercial spaces, the San Francisco Building Code, Section 1134B requires 20% of construction costs be spent on disabled access improvements when projects are under the annual threshold of $139,934.96; (3) Unreasonable Hardship Requests (UHR) may be granted per San Francisco Building Code, Section 1134B


Parking
During a soft story retrofit, parking will likely be impacted. To ease the burden of this disruption ESIP worked directly with the San Francisco Rent Board to develop a piece of legislation that clarifies the process of compensating the tenant for the loss of parking for both building owner and tenant alike. Overall, this legislation stipulates that in the case where parking has a specified value in the lease, that the tenant is due that amount in compensation for their lost parking. In the case where parking has not been assigned a leased amount, the tenant will be due replacement value for the parking not to exceed 15% of the tenant's monthly base rent. Please review this legislation, found here, for more specifics. 
The City is legally unable to recommend engineers and contractors at this time, however there are resources available, listed here:
This program requires that all retrofits are completed using, or to the level of, the following retrofitting options:
FEMA P-807, Seismic Evaluation and Retrofit of Multi-Unit Wood-Frame Buildings With Weak First Stories, as detailed in an Administrative Bulletin to be prepared pursuant to 3406B.3 of this ordinance, with the performance objective of 50 percent maximum probability of exceedance of Onset of Strength Loss drift limits with a spectral demand equal to 0.50 SMS, or 
ASCE 41-13, Seismic Evaluation and Rehabilitation of Existing Buildings, with the performance objective of Structural Life Safety in the BSE-1E earthquake, or 
ASCE 41-06, Seismic Rehabilitation of Existing Buildings, with the performance objective of Structural Life Safety in the BSE-1 earthquake with earthquake loads multiplied by 75 percent, or 
For evaluation only, ASCE 31-03, Seismic Evaluation of Existing Buildings, with the performance level of Life Safety, or 
For retrofit only, 2012 International Existing Building Code (IEBC) Appendix A-4, or
Any other rational design basis deemed acceptable by the Department that meets or exceeds the intent of the above standards.
Please see our Retrofit Solutions Research Section for more information on retrofit solutions.
 
For more information about engineering criteria or plan checking procedures, please contact the DBI Soft Story Program Manager (ESIP Task A.5.d) 
Robert Chun
Department of Building Inspection 
(415) 558-6172
robert.chun@sfgov.org



Liquefaction is a condition where loose sand and silt that is saturated with water can behave like a liquid when shaken by an earthquake.
 
California Geological Survey Liquefaction Display

Liquefaction Application: The City worked with Code For America to create an application that allows the user determine if their building is in a mapped liquefaction area. Liquefaction is a phenomenon where soft soil interacts with water below the surface and weakens. In 2000 the California Geological Survey produced a map of these areas. San Francisco has adopted this map and made it part of the criteria for buildings within the definition of Tier IV.

How to use this application: The user would go to the San Francisco Property Information Map and determine their property's block and lot identifier by inputting their address. From there, the user inputs their block and lot below and clicks search. The application will tell the user if their building is within this mapped area. Please then use this information to enter your block and lot in the following format:
Block: Block Numbers ALWAYS contain four numbers, so leading zeros must be included. (Example:  1234, 0595, or 0078)
Lot: Lot numbers ALWAYS contain at least three numbers (and possibly a letter), so leading zeros must be included. (Example:  123, 075, 001, 002A)




Note: This application indicates a building's potential location within a liquefaction area, but does not make claims about specific soil conditions at the site of the building. A licensed soil specialist should be contacted for this level of detail. This application is intended only as a guide as part of the Mandatory Seismic Retrofit program.
Seismologists predict a 63% probability that the Bay Area will experience a magnitude 6.7 earthquake in the next 30 years. After the devastating but actually very small 1989 Loma Prieta Earthquake, the City initiated the Community Action Plan for Seismic Safety (CAPSS). Working with industry experts and community members to understand the likely impacts on San Francisco from the next major earthquake, the CAPSS researchers investigated the likely impact of soft story buildings. The CAPSS study report "Earthquake Safety for Soft-Story Buildings" (ATC 52-3) goes into detail about soft-story multi-unit buildings, the program, and the impact of these buildings on the City's resilience. Upon the completion of this study, the recommendations of the CAPSS project were turned into the 50 tasks of the Earthquake Safety Implementation Program (ESIP). The Mandatory Soft Story Retrofit Ordinance is one of these tasks.
Soft-story multi-unit buildings damaged or destroyed
by the 1989 Loma Prieta earthquake.
Soft-Story Multi-Unit Buildings, Summary
According to the CAPSS study, many of San Francisco's wood-frame multi-unit residential buildings would be seriously damaged in a future probable earthquake. A significant number could collapse. The scope of this damage could cause many causalities and injuries, as well as set back the City's post earthquake recovery, and could even irrevocably change the character and affordability of the City. Many multi-story wood frame buildings were built before modern code changes adopted in 1978 (California Health and Safety Code Section 19161). These buildings have a structural weakness in the ground floor called a "soft story" or "weak story."
Soft Story Condition
This condition is due to large openings in their perimeter walls and to a lack of interior partition walls at the ground level. Usually, perimeter wall openings at the ground level make way for garage doors or large windows. Interior spaces used for retail and garages often have few partition walls. The open condition makes the ground level significantly weaker and more flexible than the floors above it. During strong earthquake shaking, these "soft" ground level walls cannot support the side-to-side or front-to-back- movement of the stiff and heavy mass of the stories above them, lending to damage and, in the worst of cases, to collapse.
CAPSS Analysis:  The Impact of Soft Story 
Retrofitting these building is relatively simple and inexpensive, providing a great deal of value in safety for the occupants and owner and allowing the City to rebound more quickly after an earthquake. The CAPSS report analyzed these buildings, coming to the following determinations:
Through a sidewalk survey, it was believed that there would be approximately 4,300 wood-frame buildings built before January 1, 1978 in San Francisco with five or more residential units on two or more stories. All of these buildings may have a soft story condition, but CAPSS determined that about 2800-2900 of these buildings likely have this condition. 
As they stand now, 43 to 85 percent of these buildings would be posted with an UNSAFE placard (red-tagged) after a probable strong earthquake, meaning 1200-2400 red-tagged buildings.
One quarter of these red-tagged buildings would be expected to collapse. This represents 300 to 850 buildings. Collapse threatens lives. Also, these buildings are almost entirely rent-controlled apartments, which would be rebuilt. If rebuilt they would not be subject to rent control under state law or may not even be apartment buildings at all. Also, this would be a significant blow to the City's architectural and demographic character.
Nearly 58,000 people occupy these buildings, and they house nearly 2,000 businesses employing nearly 7,000 people.
With retrofit, collapses could be reduced to less than one percent of these buildings.
Retrofitting all of the buildings in this subset to a recommended level that would allow most of them to be occupied after a large earthquake would cost approximately $260 million, costing nearly $1.5 to repair and replace after a large quake.
Seismic retrofit of these buildings has been estimated to cost between $60,000 and $130,000 per building in direct construction costs, taking two to four months with construction limited to the ground floor only.
These buildings are found city-wide, with substantial concentrations in the Mission, Western Addition, Richmond, Pacific Heights, North Beach and Marina neighborhoods.
Please also take a moment to check out the technical documentation that explains the process through which this information was gathered. The document is called ATC 52-3 Earthquake Safety for Soft-Story Buildings, Technical Documentation.
Many private and public institutions are hard at work developing retrofit solutions that will allow for cost effective and simple improvements to buildings all over San Francisco. This is only some of work underway. A lot of great work is being done in this field. Please direct examples or work to the EPICENTER, our upcoming pop-up collaborative space for earthquake innovation, policy and education.

NEES @ UC San Diego
The Network for Earthquake Engineering Simulation, part of the National Science Foundation (NSF), is in the process of testing a four-story wood frame building with various retrofit solutions on the shake table at the University of California, San Diego. Please visit www.nees.org for more information.
 
Four-story wood frame building on UCSD's shake table
UCSD's world-famous shake table