Local Agency Formation Commission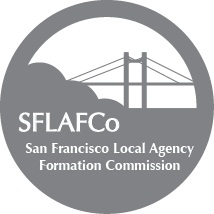 LAFCo is responsible for reviewing and approving proposed jurisdictional boundary changes, including annexations and detachments of territory to and/or from cities and special districts, incorporations of new cities, formations of new special districts, and consolidations, mergers and dissolutions of existing districts. In addition, LAFCo must review and approve contractual service agreements, determine spheres of influence for each city and district, and may initiate proposals involving district consolidation, dissolution, establishment of subsidiary districts, mergers, and reorganizations (combinations of these jurisdictional changes).
 
The full text of the LAFCO law can be found in Government Code Section 56000, et seq.
Commissioners

| | | |
| --- | --- | --- |
| Member Name: | Represents: | Title:            |
| Vacant | Board of Supervisors |   |
| Matt Haney | City Officer | Member |
| Sandra Lee Fewer | City Officer | Chair |
| Gordon Mar | Board of Supervisors | Member |
| Vacant | Board of Supervisors (Alternate) |   |
| Cynthia Pollock | Member of the Public | Vice Chair |
| Shanti Singh | Member of the Public (Alternate) | Member |
| Bryan Goebel | Executive Officer |   |

Most Requested

Opportunities

Related Links
---
Multilingual Services
Powered by

Translate
Stay Connected