Youth Commission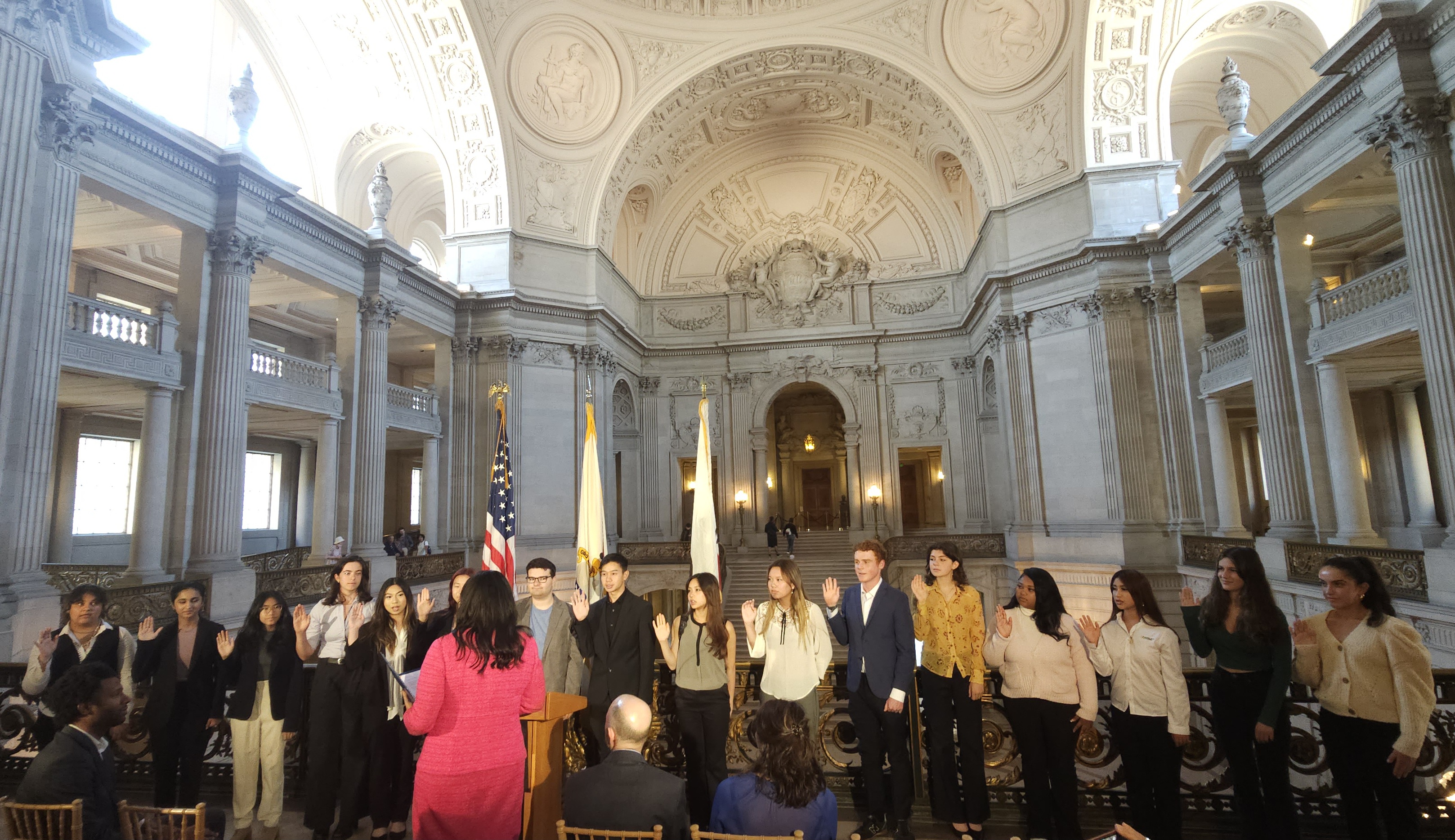 Mission

The Youth Commission is a body of 17 youth from San Francisco between the ages of 12 and 23. Created by the voters under a 1995 amendment to the City Charter, the commission is responsible for advising the Board of Supervisors and the Mayor on policies and laws related to young people. The Youth Commission is also charged with providing comment and recommendation on all proposed laws that would primarily affect youth before the Board takes final action.  You can read more about the Youth Commission here.
Youth Commissioners
Supervisor Appointed

---

Youth Commissioners
Mayor Appointed

---

Board, Committees,
Task Forces

---

District 1  Chloe Wong

District 2  Allister Adair

Disctrict 3  Kelly Wu

District 4  Linda Ye

District 5  Helen Cisneros

District 6  Gabrielle Listana

District 7  Jason Fong

District 8  Galicia Stack Lozano

District 9  Skylar Dang

District 10 Adrianna Faagau-Noa

District 11 Imaan Ansari

Mayoral  Valentina Alioto-Pier

Mayoral  Ewan Barker Plummer

Mayoral  Joselyn Marroquin

Mayoral  Isabella T Perez

Mayoral  Aryelle Lampkins

Mayoral  Téa Lonné Amir

 

 

 

 

 

Civic Engagement and Education Committee

Housing, Recreation and Transit Committee

Transformative Justice Committee

 

 

 

 

 

 
---
What's New?


 
---
Announcements
Youth Commission Student Success Fund Listening Session Findings
The San Francisco Youth Commission wants to ensure that youth voices are heard and considered when the City debates where and how the Student Success Fund funding is spent. Thus, the Commission is hosting listening sessions citywide to bring student feedback to the Department of Children, Youth, and their Families (DCYF). Read our District-based findings below. 
District 10 Listening Session:

Findings PDF
Student Success Fund Survey from San Francisco Youth Commission
The San Francisco Youth Commission wants to ensure that youth voices are heard and considered when the City debates where and how Prop G funding is spent. This survey provides an opportunity for San Francisco students to share their thoughts on how to improve San Francisco schools. Any student from Pre-K-12th grade is eligible to participate in the survey, aged up to 18 years old. 
What is Prop G? The Student Success Fund, Prop G, was passed by San Francisco voters in the November 2022's election. The Prop established the Student Success Fund grant program, which will be administered by the City Department of Children and Families, with extra grants for San Francisco Unified School District schools from Pre-K to 12th grade. Specifically, the grant would be awarded from the Student Success Fund to individual schools for hiring more educators, nurses, tutors, literacy and math specialists, academic coaches, social workers, specialized curriculum, school psychologists, and other support staff. The fund could also be used for community-based organizations or city departments to provide after-school programs, therapeutic arts, and culture programs, or summer school. *The grants are not to be used for funding core staffing.* You can find the survey at this link bit.ly/ycpropgsurvey, and attached to this email is the flyer for distribution.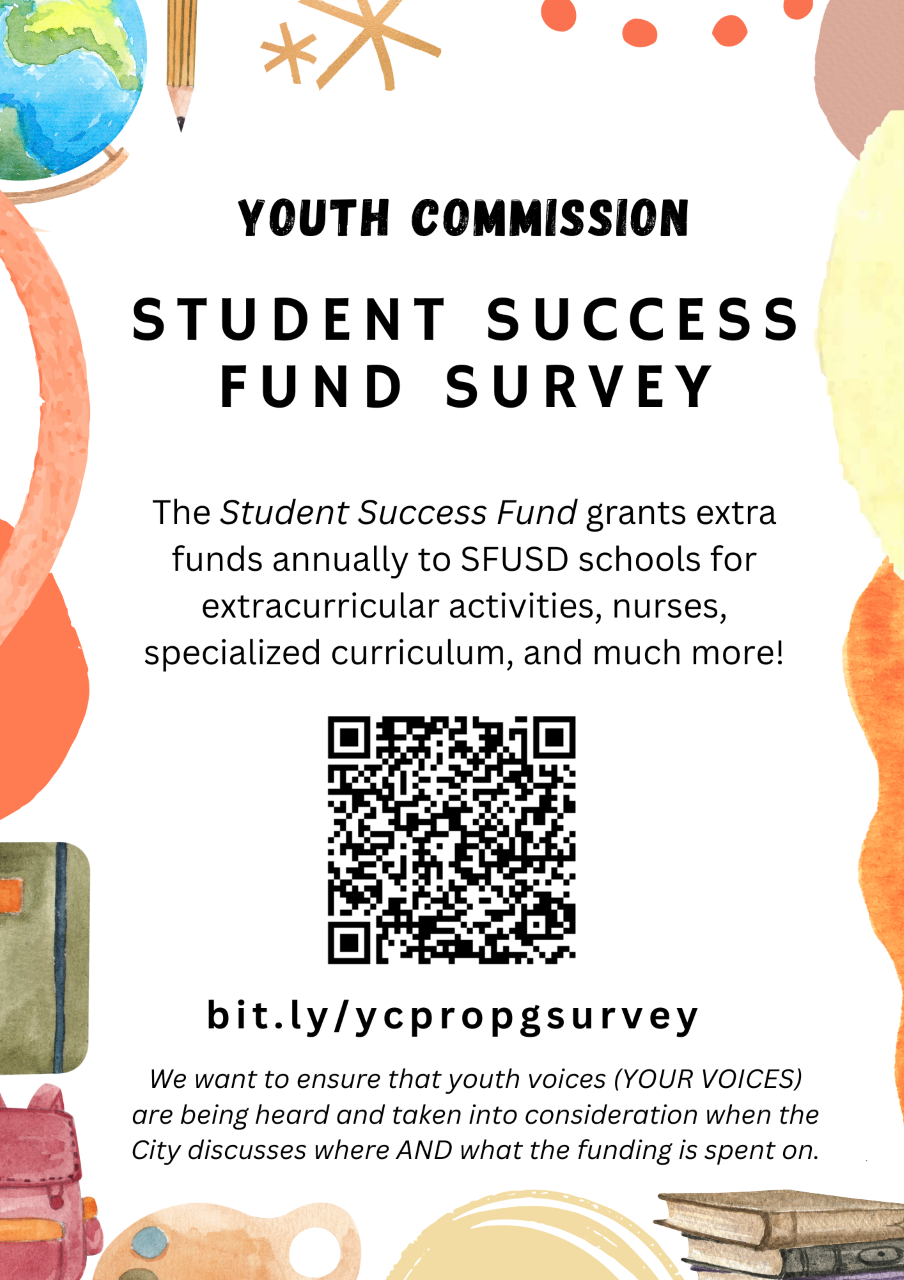 Juvenile Hall Replacement Concept Design Community Input Meeting
As many of you know, the City is working with an architecture firm to create a conceptual design for a secure setting for youth that could replace some or all of the existing Juvenile Justice Center.  This is not a process to develop detailed plans and blueprints – but instead to produce high-level designs focused on current architectural thinking that incorporates trauma-informed principles and positive youth development.  This process also will yield estimated potential costs of constructing various options, which will enable the City to contemplate possible next steps.
As a part of this process, the architecture team is holding a hybrid Community Input Session on Monday, November 13th from 6pm-8pm. The meeting will be held in-person in the Main Conference Room at Juvenile Probation, located at 375 Woodside Ave. The meeting will also be accessible via zoom.
Step Into The Light 2024 High School Youth Art Contest
OVERVIEW
The Cow Palace is hosting a creative competition to celebrate the birthday of Dr. King with a focus on "speaking out" and encouraging youth to share their voice respectfully and effectively.
The contest celebrates and builds on Dr. King's historic Cow Palace appearance. Entries should be respectful to all cultures, races, religions, and orientations, and be uplifting and inspiring. Students will submit work to the Cow Palace where it will be displayed in an exhibit and reception open to the public on Thursday, January 11th 2024 from 5:00 PM to 7:00 PM. Students, their families, and friends are invited to attend.
WHO CAN ENTER?
All high school students from public, private, and alternative schools in these Bay Area counties: San Francisco, San Mateo, Alameda, Contra Costa, Marin, and Sonoma.
WHAT ARE THE IMPORTANT DATES?
JANUARY 3rd Deadline to submit entry.

JANUARY 4th: Deliver Exhibits

Art & Photography should be submitted in person.

Poetry, Essays, and TikTok may be submitted digitally by emailing SITL@cowpalace.com
HOW DO I ENTER?
Use our online entry form at: https://tinyurl.com/23a3mkwz
Monday Funday's ARE BACK!!
Monday Funday's ARE BACK! Come hang out with the Youth Commission and elt us know what issues you care about. 
District 9 and 11 Student Success Fund Listening Session
Are you a public school student who wants to learn more about the Student Success Fund? Join the SFYC and Latino Task Force on learning about the Student Success Fund and find ways to be involved in the decision making spaces. 
Help Support Youth Mental Health!
Youth Mental Health & Support Survey!
Are you a youth 12-25 years old or the caregiver of 0–25 year old youth?
Do you live in California??
If so, we want to hear your voice!
Please complete this anonymous Mental Health & Support Survey!! https://uclasocialwelfare.co1.qualtrics.com/jfe/form/SV_bfPevGpmS2cxM6G
The survey is part of a UCLA-led media and outreach campaign that is meant to help youth access suicide prevention resources. The survey should take no more than 15-20 minutes of your time, and your responses will help us to better understand the mental health and community support needs of youth across the state.
*If you are 12-17 years old, please talk this over with your parents before you decide whether or not to participate.
If you have any questions, comments, or concerns about this survey, please contact: Robert Blagg, PhD at UCLA.MHSS.2023@gmail.com.
And feel free to pass the survey on to anyone you think would be interested in participating!
Worried about someone's safety on the street? What do you do if you see someone in crisis? 
Learn about San Francisco's street response teams, when to call 911, and when to use 311. 
Learn more about San Francisco's Coordinated Street Response Program at sf.gov/okaytocall.