Youth Commission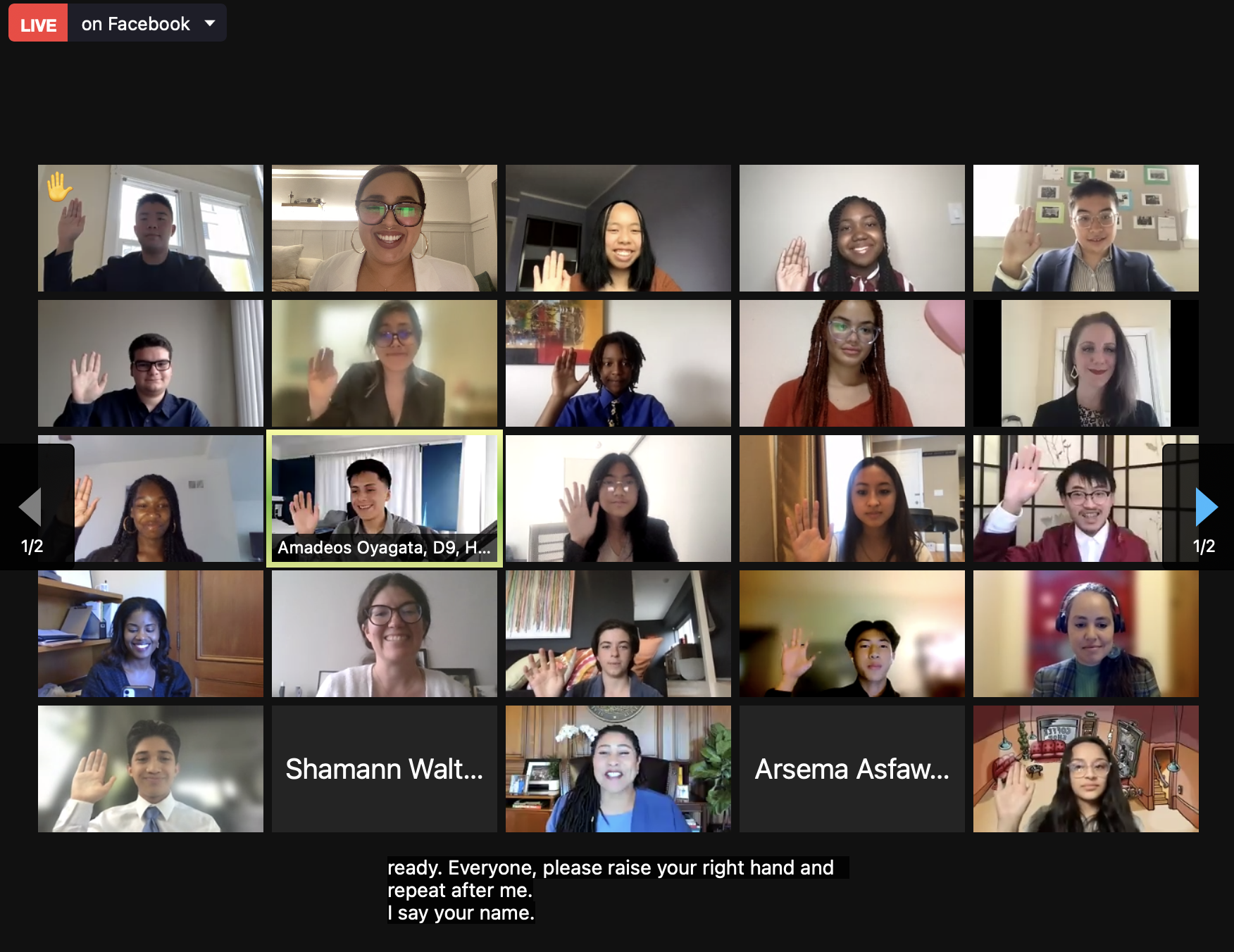 Mission

The Youth Commission is a body of 17 youth from San Francisco between the ages of 12 and 23. Created by the voters under a 1995 amendment to the City Charter, the commission is responsible for advising the Board of Supervisors and the Mayor on policies and laws related to young people. The Youth Commission is also charged with providing comment and recommendation on all proposed laws that would primarily affect youth before the Board takes final action.  You can read more about the Youth Commission here.
Youth Commissioners
Supervisor Appointed
---
Youth Commissioners
Mayor Appointed
---
---
What's New?
The 2021-2022 Youth Commission will be sworn-in by Mayor London Breed on Wednesday, September 15th at 4:15pm.  Watch this momentous occassion live on our Facebook Page!

Youth Commissioners have approved their Budget & Policy Priorities for fiscal years 2021 - 2022 and 2022 - 2023.  They can be viewed here (PDF) and the footage of their presentation to the Board of Supervisors' Budget & Appropriations Committee here (at the 1:02 mark).

The Youth Commission held a virtual Youth Budget Town Hall on Monday, February 8th, 2021. A detailed report of the Youth Budget Town Hall can be found here & a recording of the event here.  

Commissioner Gabbie Listana is our youth representative on the Our Children Our Family's Council. We are excited for her leadership!

We held our internal Elections for the Executive Committee and we are so excited to have Commissioner Nora Hylton as our Chair, Commissioner Amara Santos as our Vice Chair, Commissioner Calvin Quick as our Legislative Affairs Officer for the third term, and Commissioners Arsema Asfaw and Adrianna Zhang as our Community Outreach Officers for the 2020-2021 term.

We commenced our Virtual Swearing In Ceremony and Alumni Panel on September 9th, 2020. We thank Mayor Breed for performing the Oath of Ceremony for our Youth Commissioners and Board of Supervisors for their support. You can catch the live stream here. You can learn more about our Commissioners here. 

Before Shelter-In-Place, our District 5 Youth Commissioner Calvin Quick and Mayoral Appointees Arsema Asfaw and Nora Hylton, have been working diligently to conduct a District 5 Youth Townhall - however, they were unable to host the event. Nonetheless, they adapted and launched a District 5 Youth Budget Needs Survey to get input and feedback on the D5 needs. The goal of the questionnaire was to gather input and feedback on the unmet needs of District 5 youth and programs that serve young people. In this report, we will outline our process and the recommendations that came from this assessment, with the intention that the Mayor and District 5 Supervisor implement our recommendations during the budget process, specifically during the addback process. You can read the report here. 

BLACK LIVES MATTER. BLACK TRANS LIVES MATTER. BLACK QUEER LIVES MATTER. BLACK MIGRANT LIVES MATTER. BLACK DISABLED LIVES MATTER. Read our statement and resources list here.

Beloved Community, We are in this together. Please see our COVID-19 statement here. Practice Physical Distancing, but Maintain Social Solidarity. 
---
Community Events
---
Next Meetings
Full Commission
The Youth Commission meets regularly as a full body on the first and third Monday of every month. Meetings are usually held at 5:00 pm in room 416 of City Hall. However, due to COVID-19 & Shelter-in-Place, the Youth Commission will be meeting remotely. Instructions for public comment are detailed in agenda notices. Please, see our calendar of all regularly scheduled Youth Commission meetings for the 2020-21 term. 
The Youth Commission has resumed their regularly scheduled meetings. The upcoming Full YC meeting will be taking place remotley on Monday, September 2021 at 5pm. The agenda has been posted. Instructions to give public comment have been detailed in the notice.
Commission Committees
The Youth Commission has standing issue-based committees that meet regularly in City Hall, however, are now meeting virtually. The Youth Commission 2020-2021 issue-based committees are as follows:
The 

Civic Engagement Committee

 has disbanded and will reconvene in the new 2021-2022 term. 
The Executive Committee 

has disbanded and will reconvene in the new 2021-2022 term.

The Housing and Land Use Committee 

has disbanded and will reconvene in the new 2021-2022 term. 

The Transformative Justice Committee has disbanded and will reconvene in the new 2021-2022 term. 
---
Last Meetings
---
What Happened in the Recent Past?
To see what we were focused on the last term, check out the Youth Commission's Policy and Budget Priorities here. To see current business from the 2020-21 term, visit our tracking YC business page.
---
---
---
Multilingual Services

Translate
Stay Connected