Youth Commission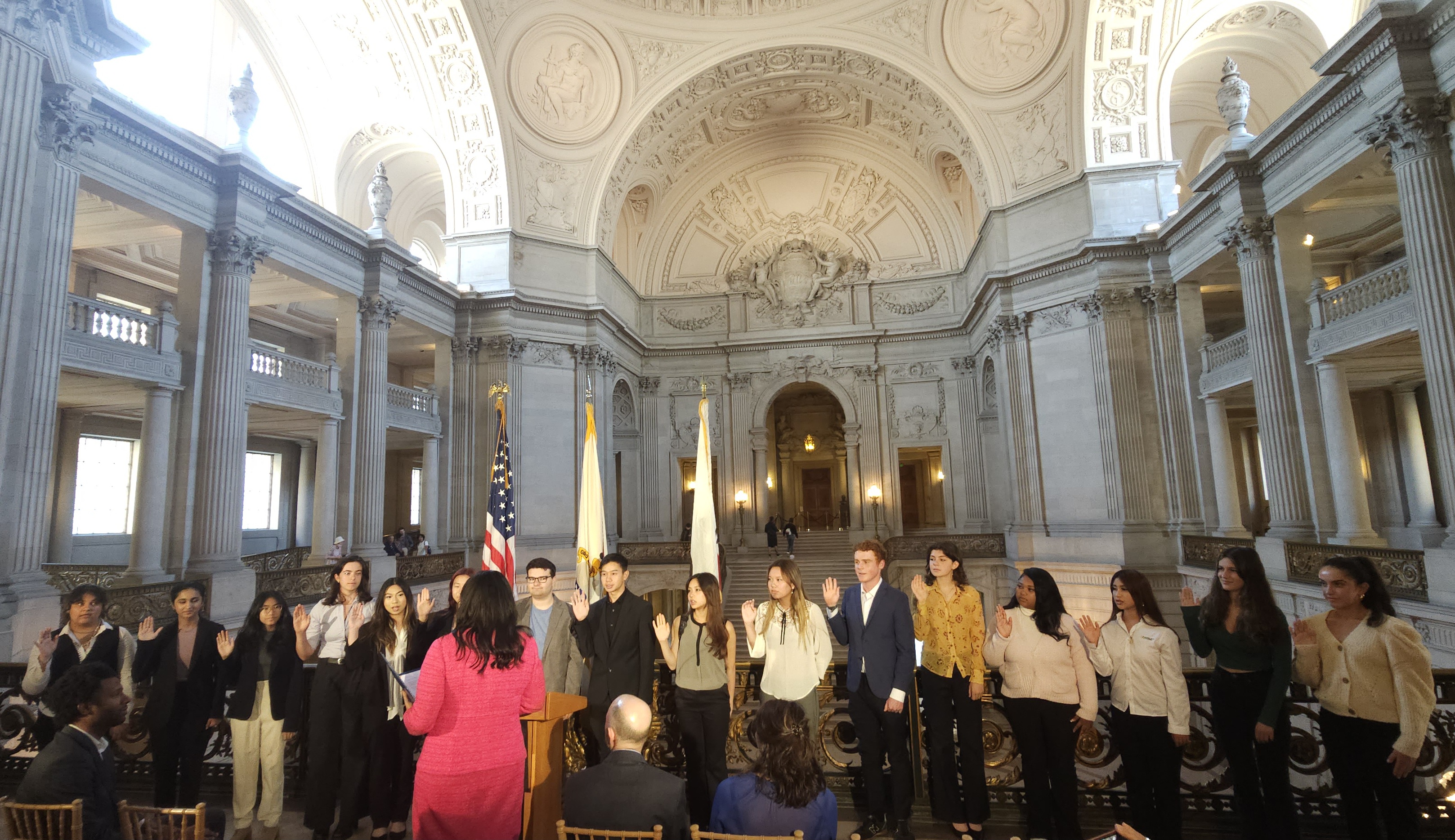 Mission

The Youth Commission is a body of 17 youth from San Francisco between the ages of 12 and 23. Created by the voters under a 1995 amendment to the City Charter, the commission is responsible for advising the Board of Supervisors and the Mayor on policies and laws related to young people. The Youth Commission is also charged with providing comment and recommendation on all proposed laws that would primarily affect youth before the Board takes final action.  You can read more about the Youth Commission here.
Youth Commissioners
Supervisor Appointed
---
District 1     Chloe Wong
District 2     Allister Adair
District 3     Kelly Wu
District 4     Linda Ye
District 5     Helen Cisneros
District 6     Gabrielle Listana
District 7     Jason Fong
District 8     Galicia Stack Lozano
District 9     Skylar Dang
District 10   Adrianna Faagau-Noa
District 11   Imaan Ansari
Youth Commissioners
Mayor Appointed
---
Mayoral    Valentina Alioto-Pier
Mayoral    Isabella T Perez
Mayoral    Ewan Barker Plummer
Mayoral    Joselyn Marroquin
Mayoral    Téa Lonné Amir
---
What's New?


 
---
Announcements
Youth Commission Student Success Fund Listening Session Findings
The San Francisco Youth Commission wants to ensure that youth voices are heard and considered when the City debates where and how the Student Success Fund funding is spent. Thus, the Commission is hosting listening sessions citywide to bring student feedback to the Department of Children, Youth, and their Families (DCYF). Read our District-based findings below. 
District 10 Listening Session:

Findings PDF
Student Success Fund Survey from San Francisco Youth Commission
The San Francisco Youth Commission wants to ensure that youth voices are heard and considered when the City debates where and how Prop G funding is spent. This survey provides an opportunity for San Francisco students to share their thoughts on how to improve San Francisco schools. Any student from Pre-K-12th grade is eligible to participate in the survey, aged up to 18 years old. 
What is Prop G? The Student Success Fund, Prop G, was passed by San Francisco voters in the November 2022's election. The Prop established the Student Success Fund grant program, which will be administered by the City Department of Children and Families, with extra grants for San Francisco Unified School District schools from Pre-K to 12th grade. Specifically, the grant would be awarded from the Student Success Fund to individual schools for hiring more educators, nurses, tutors, literacy and math specialists, academic coaches, social workers, specialized curriculum, school psychologists, and other support staff. The fund could also be used for community-based organizations or city departments to provide after-school programs, therapeutic arts, and culture programs, or summer school. *The grants are not to be used for funding core staffing.* You can find the survey at this link bit.ly/ycpropgsurvey, and attached to this email is the flyer for distribution.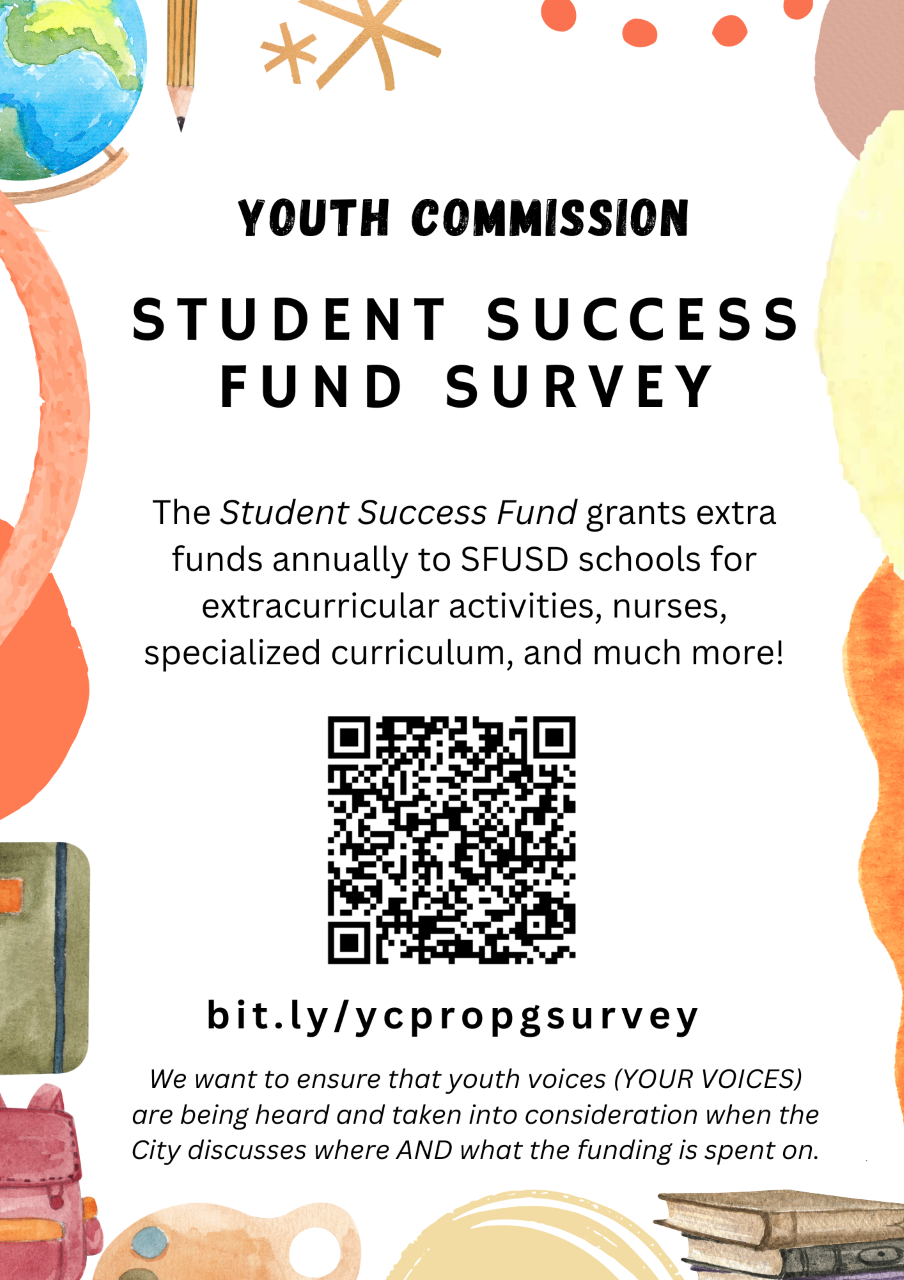 Back 2 School Drip Fest- HYPE CENTER
Freedom Forward's HYPE Center, in collaboration with Hip Hop for the Future, SPC, is thrilled to extend an invitation to an event that embodies the spirit of celebration, community, and collaboration using Hip Hop, Health & Wellness to reach our SF youth population.  
Event Details:  
Back 2 School Drip Fest Date: Saturday, September 30th Time: 12:00 PM - 8:00 PM Location: Bay View Opera House, San Francisco, CA The Back 2 School Drip Fest is a dynamic and inclusive gathering aimed at empowering youth and bringing the entire community closer together - and we NEED your organization to join us at this event. Why Your Presence Matters:
Community Bonding: This event provides an exceptional platform for networking and exchanging ideas with fellow organizations. It's an opportunity to forge connections, share resources, and amplify our combined impact.
Youth Empowerment: By participating, you contribute directly to the empowerment of young individuals who are navigating various challenges. Your involvement can create a lasting impact on their lives.
Engaging Experience: The festival promises a day of excitement, featuring live music, local food trucks, interactive activities, and more. It's a chance to connect with young people in an uplifting and positive environment.
How You Can Participate:
Table at the event and showcase your initiatives, services, resources and engagement prospects. 

Please be prepared to bring your own table, chairs and canopy for shade. 

Spread the LOVE: Invite your young people to the event!  
Highlights of the Event:
Live Music Performances (LaRussell, Stunnaman02 & DJLex just to name a few)
Donated Clothing and Footwear Giveaway
Local Artisans Providing Hairstyling & Barbering Services
Engaging and Interactive Activities (Live Art, Breakdancing, Open Mic) 
OUTLANDISH!
A New Program for LGBTQIA+ Youth Encouraging Stewardship of the Great Outdoors https://www.queerlifespace.org/outlandish
---
---
Multilingual Services

Translate
Stay Connected