Apply to be a Youth Commissioner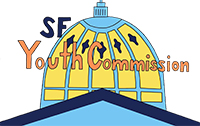 We highly believe in youth power and uplifting youth voices! Our application is closed.
 
Application & Interview Process
The San Francisco Youth Commission is considered the top Youth Commission in the country. Because of this, each year, we receive more than 60+ applications for a very small amount of open appointments. In an effort to increase our reach and as a courtesy to appointing officials, Youth Commissioners and staff conduct outreach to prospective applicants to the Youth Commission.
 
We will begin our outreach for the 2019-20 term. You can find the application here. For more information: please contact our office or visit our Open House on May 2nd 4:30-6: 30 pm.
 
The Youth Commission office has a rigorous application process that consists of a written application and an optional letter of recommendation submission and in-person interviews. We will conduct interviews with qualified applicants in the weeks following our Sunday, May 12th application deadline.
 
Due to the sheer number of youth who apply, the Youth Commission office will only recommend our top 2-3 applicants to the Mayor and Board of Supervisors offices. Their offices may wish to set up your own interviews with our recommended applicants.


Appointing Prerogative
Between 12 and 23 years old and a San Francisco resident Pursuant to Charter Sec. 4.123, "The [Youth] Commission shall consist of seventeen (17) voting members, each of whom shall be between the ages of 12 and 23 years at the time of appointment. Each member of the Board of Supervisors and the Mayor shall appoint one member to the Commission. The Mayor shall also appoint five (5) members from underrepresented communities to ensure that the Commission represents the diversity of the City." Appointments to the Youth Commission are not subject to approval by the Rules Commission or the full Board of Supervisors. 1 The Charter provides the following description of the Youth Commission, which may be helpful to your offices in selecting an appointee: "The [Youth] Commission shall consist of individuals who have an understanding of the needs of young people in San Francisco, or experience with children and youth programs or youth organizations, or involvement with school or community activities. The members shall represent the diversity of ethnicity, race, gender and sexual orientation of the people of the City and County, and shall be residents of the City and County."
 
Returning Commissioners

Current commissioners must also reapply and can be reappointed to serve additional one-year terms. We know that Commissioners get the most out of their experience by being on the Commission for more than one year, as policy and legislative work takes time to see results, as does getting acclimated to a serious advising body. However, there is no guarantee the Youth Commission office will recommend a current commissioner for a consecutive term.

Timeline
If you have any questions about the application, need help filling it out, or are just curious about the status of your application, please contact our office at (415) 554-6446 or email us at youthcom@sfgov.org. While we try very hard to stay true to the deadlines listed below, the process sometimes takes longer than expected. Please be patient and we will contact you as soon as possible!

1. Please submit your completed application to the Youth Commission by 11:59 p.m. on May 12th, 2019. Late applications will not be accepted. 
2. Applications will be reviewed and followed up during the second week of May.
3. If you have been selected for an interview, you will be contacted to attend either mid-May 21st - 23rd.
4. Applications will then be forwarded to the Office of the Mayor and to the members of the Board of Supervisors for additional review.
5. The Mayor and the Board Members may either choose to appoint an applicant to the Commission at this point OR to call applicants for further interviews.
6. If you have been selected as a 2019-2020 Commissioner, you will be contacted by late July.
7. The Youth Commission Orientation Retreat is Labor Day weekend Aug  30 - Sept 1st. The retreat is mandatory.
8. Commissioners will be officially sworn into office by September 4th! The swear-in ceremony is mandatory.